Even so, the PM's cash in hand is among the lowest when compared with his Cabinet colleagues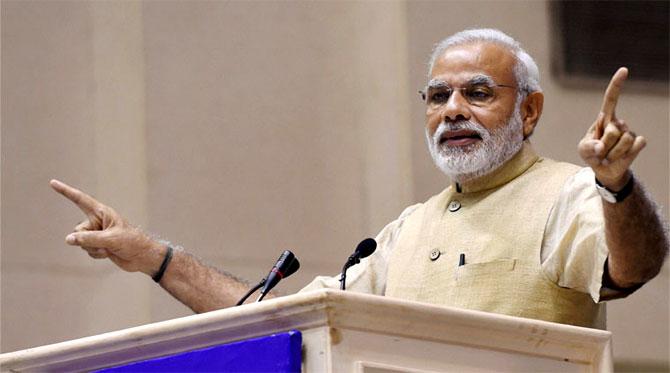 Prime Minister Narendra Modi's cash in hand has risen 19 times in financial year 2015-16 to Rs 89,700, from Rs 4,700 in FY15. Even so, the PM's cash in hand is among the lowest when compared with his Cabinet colleagues.
In FY16, the cash in hand with Finance Minister Arun Jaitley was Rs 65.29 lakh, External Affairs Minister Sushma Swaraj Rs 2.84 lakh and Information & Broadcasting Minister Venkaiah Naidu Rs 1.52 lakh, according to government's declaration of ministers' financial assets and liabilities.
The PM's total wealth, including moveable and immovable assets, has shown an increase as well. According to latest data, Modi is richer by 22.6 per cent compared with his wealth in FY15. His overall financial assets are pegged at Rs 1.73 crore, up from Rs 1.41 crore in FY15.
A new entry in the PM's financial assets in FY16 was the royalty from books at Rs 12.35 lakh. In the previous two years, the declaration of assets did not show book royalties.
Modi continues to have four gold rings weighing 45g as before, though their value has gone up 27 per cent to touch Rs 127,000, from Rs 118,000 a year before.
Among other assets, his Gandhinagar property is valued at Rs 1 crore, which is the same as last year. The PM still does not own a car, yacht or aircraft, nor has he given out any loan to any person.
His savings bank account at the State Bank of India in Gandhinagar holds Rs 209,000 in balance while fixed deposits at the same bank has Rs 51.27 lakh.
In the previous year, his savings and fixed deposits accounted for around Rs 31 lakh. Among other instruments, the PM has invested in tax-saving L&T bonds, Life Insurance Corporation of India instruments and National Savings Certificates totalling Rs 547,000. Financial details of the PM's wife, Jashodaben, continue to be listed as "not known".
The latest data showed Finance Minister Jaitley's personal financial assets had declined by around 8.9 per cent in FY16. Among the richest in the Cabinet, Jaitley's financial assets, including moveable and immovable assets, were pegged at Rs 60.99 crore in FY16, down from Rs 67.01 crore in the previous year.
The finance minister owns six residential properties jointly with his wife Sangeeta Jaitley in Delhi, Gurgaon, Amritsar and Gandhinagar.
He also has land and commercial properties across cities.
Among other prominent members of the Cabinet, the market value of External Affairs Minister Swaraj's financial assets has increased to Rs 5.21 crore in FY16, from Rs 4.54 crore in FY15.