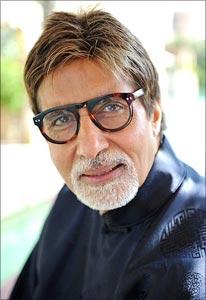 Bollywood actor Amitabh Bachchan will bring his star power to Complan in new ads that will break shortly on television.

This may seem like any regular endorsement, but for Complan, it is a battle for survival.

This flagship brand of Heinz India, is the leader among milk-based beverages, a segment that constitutes 30-35 per cent of the Rs 5,500-crore (Rs 55-billion) health food drink market.

But at a category level, it still trails Horlicks, which calls the shots on the malt side, constituting 65-70 per cent of the market.

For years, the status-quo remained.

Now, Heinz, which last year saw a change in ownership with Warren Buffet's Berkshire Hathaway and Brazilian investment firm 3G Capital buying out the company, is keen to change it.

Which is why Bachchan's endorsement is important of the health drink.

As Seema Modi, managing director, Heinz India, says, "He is a living legend, evokes a lot of trust and embodies strength."

Bachchan had also recently panned soft drinks as bad.

This is the first time in Complan's 50 years of existence, that the brand which gives Heinz India close to 50 per cent of its Rs 1,400-crore (Rs 14-billion) revenues, is associating with celebrities.

The other big name is Surya, a popular actor in the south, who will be the face of the brand in that region.

Three months ago, Heinz brought on board chess player Viswanathan Anand to endorse its credentials as a product that offered both strength and stamina, building the faculties of the mind.

Modi, who took over as MD of Heinz India in 2012, has a clear mandate: Increase revenues from a market considered key.

Nearly a quarter of the US-based major's $12 billion (or Rs 74,400 crore) revenues come from markets such as China, India, Indonesia, Russia, and Brazil. India contributes about two per cent of revenues to the global kitty.

The new advertising, packaging and branding for Complan is expected to be one part of this exercise to ramp up revenues.

The other will be launching a possible malt variant of Complan.

Heinz is also looking at launching one big product a year.

This comes as the US-based major focuses on categories beyond milk food drinks. It has well-entrenched brands such as Glucon-D, the leader in the Rs 800-crore (Rs 8-billion) powdered energy drinks category, Sampriti, a regional product in ghee, and Nycil, the leading player in the Rs 800-crore prickly heat powder segment.

Modi says that her company will launch more ethnic products as it attempts to tap into consumer needs at both the national and regional levels.

Heinz will soon launch a new aam panna variant of Glucon-D.

Modi says that the product is currently being placed at retail stores across the country, and will be launched at a price-point of Rs 20.

Heinz reaches almost 1.4 million stores across India, with almost 80 per cent located in urban areas.

The 20 per cent retail presence in rural areas is expected to grow as Heinz beefs up its distribution reach in these areas.

Ethnic flavours gain ground for Heinz

Ethnic products are also expected to help the company in this endeavour.

The aam panna variant will be the second local flavour under Glucon-D, the first being nimbu pani.

Under flagship Complan, the milk food drink, Heinz has two ethnic flavours pista badam and badam milk.

More are expected to be launched, as Modi says that Heinz would expand Complan's equity beyond urban areas.

Localisation will not be restricted to food products alone. Heinz will also fortify Nycil with local ingredients.

The company, in recent years, has launched variants such as sandalwood, neem and gulabjal (rose petals) under Nycil.

This process is expected to continue, Modi adds.

Heinz's focus diminishes on ketchups

Despite being known for its ketchups and sauces worldwide, Heinz is unlikely to give this business a significant boost.

This has partly to do with rivals Nestle and Hindustan Unilever stealing a march over it with new flavours and products.

"We will selectively launch products under ketchups," Modi says, indicating where her priorities lie.

Heinz, which has two plants, at Aligarh in Uttar Pradesh and Sitarganj in Uttarakhand, is expected to use all levers in manufacturing, research & development, marketing and distribution to improve its presence in existing categories.

While entry into new categories is expected in the medium term, Modi opts not to disclose further details.
Photograph: Amitabh Bachchan