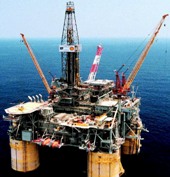 With the government looking for alternative ways to tackle the sticky issue of domestic petroleum prices, state-run oil marketing companies have sought a higher cash component in the compensation given to them for selling petroleum products at lower than global prices.
Indian Oil Corporation, Hindustan Petroleum and Bharat Petroleum have also asked for reopening of the special marketing operations by the Reserve Bank of India, which allows these companies to get foreign exchange in return for bonds from an RBI nominee bank.
In a presentation made to the Kirit Parikh group on pricing of auto and cooking fuels recently, the three companies have also sought market-linked prices for petrol, diesel and LPG, while asking the government to directly subsidise consumers for kerosene.
"We have suggested that the subsidy can continue on kerosene but it should be directly passed on to the consumers, instead of the companies bearing loss for it," said a senior OMC executive. The companies had incurred a loss of Rs 28,225 crore (Rs 282.25 billion) in 2008-09 and Rs 7,759 crore (Rs 77.59 billion) during April-September 2009 on sale of kerosene through the public distribution system.
OMCs are partially compensated for the losses they incur on sale of auto and cooking fuels through a two-way mechanism that includes direct discounts by the oil and gas producing companies -- Oil and Natural Gas Corporation, Oil India Ltd and GAIL India -- on the crude oil and LPG they sell to the three marketing companies.
The government compensation is in the form of bonds, which gives limited liquidity to the OMCs. "Besides SMO, we have asked the government to give a higher coupon (interest rate) on the bonds, which could be above the rate of prevalent government securities. The higher rate is being sought since the bonds do not have statutory liquidity rate status and sometimes we make a loss while disposing them," said another executive.
No oil bonds have been issued this year till now, though the ministry of petroleum and natural gas has asked for Rs 11,853 crore (Rs 118.53 billion) worth of bonds for the first half of this year. The bonds are expected to be cleared in the first supplementary to the Budget which will be placed in Parliament next week.
SMO was introduced last year, when international crude oil prices had peaked to $147 a barrel and the OMCs had exhausted their credit limits with banks. The foreign exchange raised through this route was used for purchasing crude oil. The government had issued oil bonds worth Rs 71,292 crore (Rs 712.92 billion) in 2008-09.
In September, the government constituted a five-member group headed by former Planning Commission member Kirit S Parikh to look into pricing of fuels.
The group would also examine the financial health of the OMCs and make recommendations to compensate these for their under-recoveries in case they are not permitted to charge market prices.
Other members of the committee are Indian Council for Research on International Economic Relations' chairperson Isher Judge Ahluwalia, National Council of Applied Economic Research director-general Suman K Bery and the secretaries of the Union ministries of finance and petroleum.
The OMCs are estimated to close this financial year with over Rs 47,000 crore (Rs 470 billion) of under-recoveries if global crude oil prices move into the range of $75-80 a barrel. They had closed 2008-09 with under-recoveries of Rs 103,292 crore (Rs 1,032.92 billion) on sale of petrol, diesel, kerosene and LPG cylinders.
For the current year, the under-recoveries on auto fuels are being fully compensated in the form of discounts from upstream companies, while those on sale of kerosene and LPG will be compensated through government bonds.
In their presentations earlier to the Kirit Parikh committee, the three private sector companies, Reliance Industries, Essar Oil and Royal Dutch Shell, had asked for freeing of petrol and diesel prices from government control.
The private companies also said they should be treated at par with the public companies, so that they were not forced to close their businesses.