The sharp depreciation in the rupee against the dollar since the beginning of May has left several companies with unhedged foreign currency exposure and might affect the asset quality of financing banks, analysts and bankers said.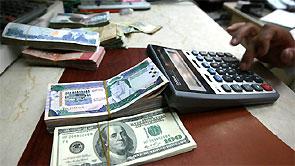 While the rupee depreciation in 2012 persuaded many companies in taking hedges against their foreign currency loans, industry analysts feel it might not be sufficient to counter the swift slide in the value of the local currency.

"The rupee was fairly stable in the first four months of 2013. It created a false sense of security in the minds of market participants. We believe the depreciation was so sudden that it has caught many corporates off-guard and their covers are insufficient," Param Sarma, director and chief executive of NSP Treasury Risk Management, told Business Standard.

The currency has depreciated 5.5 per cent against the US dollar since the beginning of May. Today, the rupee closed at 56.84 a dollar after touching 57. The currency had hit a record low of 57.33 on June 22, 2012.

Sarma believes if the rupee breaches its record low level, there will be a rush among investors to buy dollars, creating further downside pressure on the domestic currency.

"I think it goes without saying that there will be an impact, especially for the mid-cap companies. It's fashionable for many to not take hedges and they will suffer," said a senior banker, who's in charge of the corporate finance division of a large European bank in India.

In the monetary policy for 2013-14, the Reserve Bank of India (RBI) had cautioned banks about unhedged foreign exchange exposure of their clients. "Banks should put in place a proper mechanism to rigorously evaluate the risks arising out of unhedged foreign currency exposure of corporates and price them in the credit risk premium, while also considering stipulating a limit on the unhedged positions of corporates on the basis of banks' board-approved policy."

The banking regulator has proposed to increase the risk-weight and provisioning requirement on banks' exposures to unhedged foreign exchange positions of corporate clients. Bankers claim they constantly advise their clients to take hedges.

"There is a continuous dialogue. But ultimately we cannot force anyone to take hedges. We try to persuade our clients and many have started taking hedges in the last one year," said a senior executive, in charge of the treasury department of a foreign bank in India.

Most bankers, however, said the current situation was unlikely to create significant stress on lenders' asset quality.

"It might be life-threatening for some companies but not for banks, at least not right now. Large companies will have balance sheet strength to absorb the hit," a senior official of a large private bank said.


In a trough

The rupee has depreciated 5.5% against the dollar since the beginning of May. On Thursday, it closed at 56.84 a dollar after touching 57. The currency had hit a record low of 57.33 on June 22, 2012
In the monetary policy for 2013-14, the Reserve Bank of India had cautioned banks about unhedged foreign exchange exposure of their clients. It has proposed to increase the risk-weight and provisioning requirement on banks' exposures to unhedged foreign exchange positions of corporate clients
Most bankers said the current situation was unlikely to create significant stress on lenders' asset quality