Riding on a stock market boom since 2009, India Inc's chief executives have been able to salvage a lot of lost pride in their second innings.
This may augur well for N Chandrasekaran and Chanda Kochhar who have recently started their second terms as managing director and chief executive of Tata Consultancy Services and ICICI Bank, respectively.
An analysis of the Nifty 50 firms shows there are 10 companies where CEOs served more than one consecutive term in the past decade, and in nine of these the market capitalisation grew at a faster pace in the CEOs' second term.
These companies also outperformed the National Stock Exchange's benchmark index during their leaders' second term. Between 2003-04 and 2008-09, the Nifty grew at a compounded annual rate of 10.7 per cent. In the next five years, the rate increased to 17.8 per cent.
External factors played a critical role in stock performance as global and Indian stock markets recovered after the Lehman crisis. This is evident from the fact that shares of Nifty companies where the CEOs were changed also witnessed a similar trend of rising market capitalisation since 2008-09.
The Reliance Industries stock was the only one that failed to keep pace with the Nifty since April 2009, mainly due to a slowdown in production of gas from the Krishna-Godavari basin and a subdued industrial environment leading to slower growth in net income and static revenues.
"It is rare that a CEO is changed when the company is doing well. Any change at the top is unwarranted when the going is good," said Nishchae Suri, partner and country head (people and change) at audit and consultancy firm KPMG. "There are many external factors that determine a company's good showing, or otherwise. But leadership is an important factor," he added.
The nine companies are: Hero MotoCorp, ITC, Grasim, Kotak Mahindra Bank, Dr Reddy's Lab, Hindalco, Sun Pharma, Mahindra & Mahindra, and HDFC Bank.
These companies' strong showing on the stock market during their CEOs' second terms between April 1, 2009, and March 31, 2014, was in spite of their revenues and net incomes growing at slower rates.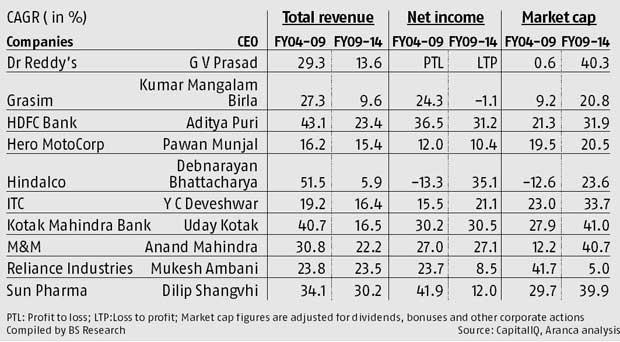 The revenues and net income of these 10 companies slowed down since 2008-09 following the global economic slowdown and the policy paralysis in the country during the United Progressive Alliance government. Hindalco saw the slowest growth in revenues between 2008-09 and 2013-14 as the company was ramping up production by setting up new plants. Its net income growth was, however, the best among all the 10 companies (see chart).
"The sentiment has improved considerably. We are optimistic about Novelis as we ramp up recycling operations further and car sales pick up in North America," said Hindalco's managing director and chief executive D Bhattacharya.
The net income of another Aditya Birla group company, Grasim, fell by 1.1 per cent between 2008-09 and 2013-14 as revenue growth slowed down to 9.9 per cent from 27.3 per cent. ITC under its chairman Y C Deveshwar recorded stable growth in earnings from its cigarette business and helped deliver good shareholder returns.
"The market prefers continuity in leadership if a company is able to sustain the growth momentum despite economic headwind," said Hemendra Aran, CEO and founder of Aranca, a global analytics and research firm.

The stocks which performed the best among the 10 companies are: Kotak Mahindra Bank, Mahindra & Mahindra, Dr Reddy's and Sun Pharma, with almost 40 per cent growth in market value since 2009.

While Kotak Mahindra Bank has done well due to its increased focus on retail banking and good quality assets, Mahindra & Mahindra's stock performance is led by the strong showing of its utility vehicles and tractor businesses.
Experts said CEOs tended to improve the performance curve in their second term as they were armed with a better understanding of their companies, their value chain, stakeholders and risk appetite.
"Research has also shown that the intensity with which a company monitors its CEO declines as the executive's tenure progresses. This intricate understanding helps the board and the CEO contextualise past experience, assess the present and envision the future better. They are, therefore, able to pursue high-yield strategies and push their companies to improved avenues of growth," said Abhay Gupte, senior director at Deloitte in India.