Raising money through a cess to fund the government's ongoing cleanliness and sanitation campaign suggests that the intial round of efforts did not achieve the objectives fully, notes Govindraj Ethiraj.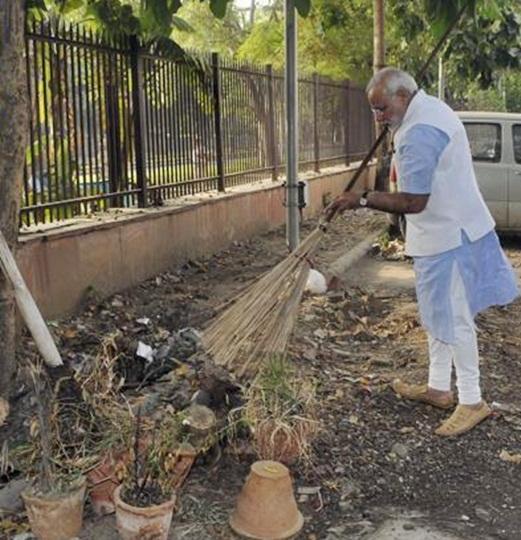 Image: Cleanliness and sanitation are high on Modi's agenda, although his hurry to show results causes the effort to falter. Photograph: Press Information Bureau
Since November 15, you have been paying an additional 0.5 per cent cess on all services you avail of, ranging from air and train tickets to eating out at restaurants and telephone bills.
The cess, expected to raise an additional Rs 400 crore (Rs 4 billion) during this financial year, will ostensibly fund the government's ongoing Swachh Bharat campaign.
The funds will go, according to a report quoting Jayant Sinha, minister of state for finance, to the "urban development ministry and the ministry of drinking water and sanitation".
Whether the funds will go onwards to the states in keeping with other devolution moves is not clear.
But a fund raise at this point does suggest that the initial round of efforts, including several media blitzes, did not fully achieve the intended objectives.
Cleanliness and sanitation are high on Prime Minister Narendra Modi's agenda, although his hurry to show results, like in the toilets for schools campaign, causes the effort to falter.
A FactChecker.in report showed, for instance, that in many schools, there was neither water nor drainage in many toilets or these were badly built to the point of being unusable.
The question is thus larger.
What has the effort so far delivered? How is it being implemented in a manner different from that in the past?
And what guarantee is there that the Rs 400 crore (Rs 4 billion) will now be spent in a meaningful manner and not, for instance, in more high-decibel but ineffective publicity?
More critically, how does one ensure a fresh approach and different design thinking to help achieve real success, albeit over time?
Most government programmes use brand ambassadors, usually Bollywood stars and cricketers, to push messages like this.
The Swachh Bharat initiative combines Bollywood and cricket personalities, a few others and - not to sound discouraging - a Bengaluru 'techie' solution that involves building apps, a social media push and an attempt at building communities.
Could this be done differently? How does one inject more thought and original ideation at the start - a weakness of most government-led projects?
The Unique Identification Authority of India (UIDAI) is a good case study.

It brought together some of the best minds, for and against the initiative, and kept most of the ideation process semi-formal akin to a garage start-up. It left the hard implementation to the government.
Designing the architecture of the biometric identity project (later called Aadhaar) started in two places.

Chairman Nandan Nilekani's living room and an apartment in Bengaluru leased by Srikant Nadhamani, the technology head, for Raj Mashruwala, Nilekani's classmate from IIT Bombay.
The group expanded slowly to include several professionals, some Indian-origin Valley entrepreneurs, engineers, consultants, investment bankers and youngsters out of college.
Apart from participating in the brainstorming sessions, they helped take the concept of a unique identity and how it could play an important role in empowerment to the wider world of users.

And more important, it kept the feedback and engagement loop going, so as to help tweak the design where needed.
Nilekani also roped in an advisory team of sorts comprising professionals such as Nachiket Mor, former deputy managing director at ICICI Bank, and T Koshy, who worked on building large databases at National Securities Depository Limited (NSDL), the holder of India's PAN card database.

If NSDL could help build a 140-million database, then surely one 10 times larger could be built for the country.
The team met several times and brainstormed the design of the unique identity. Mor, who now sits on the Reserve Bank of India board, is credited with making Aadhaar cardless.

"Coupling identity with a physical card increases the burden on the poor. What if they lose it," he is said to have asked.
The group, individually or collectively, also met several times with civil society members, including some of the harshest critics.

A big concern for the critics was, as perhaps still is, the possibility that the government might use the database for profiling.

Efforts were made to convince the group, though unsuccessfully. But the good news is that all concerns were in the open.
While the private sector interns and the feedback they sourced from around the world helped with the design thinking, the director general of the project, R S Sharma - now chairman of the Telecom Regulatory Authority of India - helped focus on using the government administrative system to roll out the project across the country.
It helped that Sharma was a technologist himself and prone to pound away code on the odd occasion.

As the design evolved, so did the approach. The UIDAI created a lean organisation on top and then worked with registrars, intermediaries such as states and public sector banks to appoint enrolment agencies.
Swachh Bharat is a big mission. Like Aadhaar, in some ways, it attempts to address something fundamental. Unlike Aadhaar, there are no apparent technology quick fixes.

Or maybe there are. Aadhaar was about asking how technology could fix the most fundamental problems faced by India.

Swachh Bharat is about changing behaviour and decades-long habits, more fundamental in some ways.
There will be ways to make Swachh Bharat successful. But it will take a fresh approach in thinking and more importantly, in using people and their ideas.
No one better than Modi to appreciate that point.
The author is founder, Ping Digital Broadcast.