Measures that will make Indian cities more organised and liveable need to be implemented to tackle the menace of pollution, says Govindraj Ethiraj.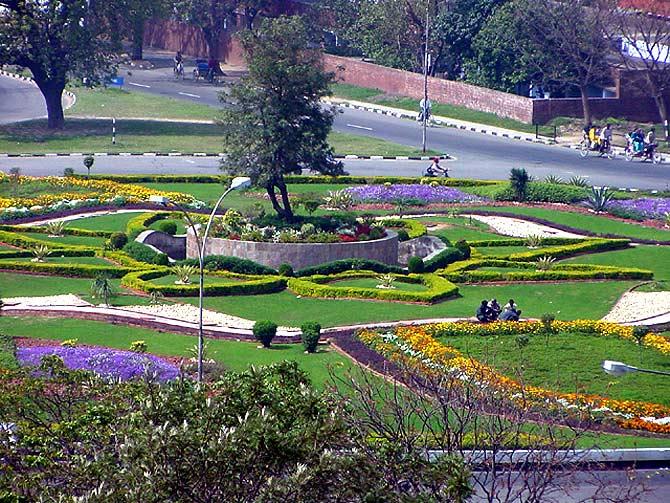 Petroleum Minister Dharmendra Pradhan had this interesting anecdote to relate the other day at a conference on cities and air pollution.
While visiting a south Delhi home, he noted the expansive lawn and fleet of cars, eight big ones to be precise. "Can you guess the number of people living in the house," Pradhan asked. "Three," he said, emphatically.
"It's about prestige and ego, to own so many cars. That is what makes vehicular emissions a social problem, not an economic one," he emphasised.
"It is about those who do not have versus those who use too much."
Pradhan, in some ways, posed the larger question that every Indian city must answer: Can we ever fix deteriorating air quality and where do the answers really lie?
The unfortunate answer at this point: Not quite. One big problem is perhaps the acknowledgement of the problem itself.
Not so much whether PM2.5 levels went up or down thanks to Delhi Chief Minister Arvind Kejriwal's efforts but, more importantly, what every individual's exposure to pollution is.
The Centre For Science and Environment quotes a 2012 epidemiological study of 12,000 children across 36 Delhi schools, which showed that every third child had reduced lung function.
The sputum of a Delhi child apparently contained four times more iron-laden macrophages than those from clean environs, indicating pulmonary haemorrhage.
Bogota in Colombia recorded 29,064 cases of acute respiratory disease (ARD) in 2007 and about 600,000 children under the age of five were treated for ARD in 2008.
Back home, more and more Delhi parents speak of their children using nebulizers.
The air quality problem extends beyond Delhi and other metros to smaller cities. A 2016 World Health Organisation report says 16 of the 30 most polluted cities in the world are in India.

There are many more frightening data points on pollution impact on roads, inside cars and on long-term health.
But solving the problem requires a fundamental shift in stance: We have to aim for better cities, not just better air.
Let's break down the problems and the possible solutions.
Determined efforts needed: Mexico's Ambassador to India Melba Pria, whose chosen mode of transportation in Delhi is an auto-rickshaw, says that when the odd-even road rationing formula was tried in Mexico City, any vehicle that did not qualify was banned.

Unlike in India, there were no exemptions for women, children and other sections. Moreover, if you came from out of town, you were stopped at the entrance to the city.
Awareness of impact lacking: The story of the frog who got slowly boiled to death without realising it perhaps best applies to Delhi's residents.

Few understand how minute particulates are destroying their lungs every day.

Where there is awareness, it usually leads to buying air purifiers, which might help in enclosed environments but not outside.
Now let's try and draw some lessons from how once highly polluted cities like Beijing, Mexico City and Bogota have tried to address this problem.
Get people off cars, two-wheelers: Push them towards public transport, even bicycles.

To do this, you need bicycle lanes. Stray attempts like the one in Mumbai's Bandra Kurla Complex flopped because the lanes were built and forgotten.

So much so that few even recognise these demarcated spaces as bike lanes.
In contrast, Bogota has an amazing 400 km of private bicycle lanes.

In Europe, Munich has 1,200 km of marked bike lanes and 22,000 stands. Close to 20 per cent of the city's traffic is believed to be on bicycles.
More buses: But new generation ones. Bogota has 248 brand new hybrid diesel-electric buses.

China has more than 100,000 electric buses, 20 per cent of the total number of buses. Shenzen saw the largest deployment of electric buses recently.
Move all polluting industries out of the city: There's no choice on this matter, as Pria says. Mexico City didn't just move out the industries but ensured there were better filtration systems introduced into polluting stacks.
Keep expanding the Metro: You can't fault Delhi on this one but other cities have to move faster.

Beijing's Metro railway system went from two lines and 54 km in 2000 to a staggering 18 lines and 527 km by 2014. Yes, there is the China factor.
Take alternative transport arrangements seriously: Delhiites turned up their noses at a Bus Rapid Transport (BRT) network but it's running well in cities like Ahmedabad, and to some extent, Bhopal.

Bogota's BRT network now spreads over 112 km and handles 2.4 million passengers every day.
Beijing's BRT system is spread over four lines and 64 km of roads. But it also has a 395-km bus-only lane.

The use and adoption of BRT needs to be preceded by strong, smart and attractive messaging. Professionals need to run this part.
Strong demand management measures: Highly priced parking for cars is one obvious one, or a variation of congestion pricing.

Cities like Mumbai keep trying it, but nothing that effectively deters car purchases.

Beijing has a lottery system for 20,000 new cars a month. Cities like Singapore have long implemented similar moves.
Fuel management: Reducing sulphur content in diesel is a critical task.

As is the leap towards Euro VI (by 2020) or higher emission standards from the current Euro IV norms.

Laudable as they are, they will take time and cannot be implemented by one city or a set of cities alone.

BS IV fuels contain 50 parts per million (ppm) of sulphur while Euro VI will contain 10 ppm.
Today, India has Euro III norms in most parts of the country and Euro IV in major cities.
The challenges are boundless, but they can surely be resolved if citizens and lawmakers think of putting a better city ahead of better air.

Most major cities in the world, including those in North America, have gone through the suffering, learning and action curve. We have to quickly graduate to action.
The author is founder, Ping Digital Broadcast.