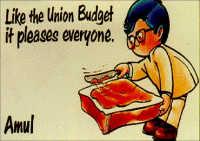 A recently published book, Ad Katha, is not just a trip through the golden age of Indian advertising, but also an enquiry into how many of the cultural symbols that we now see as "Indian" came about, says Ajit Balakrishnan.


A beautiful girl is anxiously staring off camera. The camera cuts to a batsman swinging his bat for a six, the girl's face breaks into an ecstatic smile, the crowd roars in the background, the girl dodges stern officials and policemen, dances onto the cricket field, runs up to the batsman, gives him a hug and a bite of Cadbury's milk chocolate.
And the stereotype of the demure Indian girlfriend is banished forever.
A ponytailed moppet in a polka-dot dress and matching hair ribbon starts out in 1966 on Bombay bus panels, and for the next half-century amuses us with its puns on current affairs.
One racing season it is "Thorough Bread"; during the Enron scandal it is a blacked-out billboard with "Enr On? Or Off?"
The sign-off: Utterly Butterly Amul.
These and dozens of other advertisements fill the 330 colourful pages of
Ad Katha
, a sumptuous book just published through the energetic efforts of Bal Mundkur and Gerson da Cunha.
It is written and produced by Anand Halve and Anita Sarkar.
Leafing through this book is not just a trip through the golden age of Indian advertising, but also an enquiry into how many of the cultural symbols that we now see as "Indian" came about.
Bal Mundkur was the swashbuckling founder of Ulka Advertising, arguably India's first financially and creatively successful advertising agency.
Gerson da Cunha was for many years the moving spirit behind Lintas, the ad agency for Lever, that great training school for Indian marketing professionals.
The advertisements showcased in
Ad Katha
are markers not just of an increasingly confident and creative advertising industry but of Indian society too.
The Cadbury milk chocolate TV ad marked the end of the sati-savitri portrayal of Indian women; the Amul billboards and bus panels were a sign of the arrival of an irreverent Indian media, where no issue or person is beyond a playful dig.
The 1970s was a period when the Nehruvian dream of state-led industrial progress was starting to fade and dynamic Indian entrepreneurs were taking the stage.
People like Kersey Katrak, Bal Mundkur, Sylvie da Cunha, Gerson da Cunha and Frank Simoes were helping these entrepreneurs
establish distinctive Indian voices for their clients.
"A woman expresses herself in many languages, Vimal is one of them," heralded then-nascent Dhirubhai Ambani empire.
"Livva little hot … sippa Gold Spot," established a soft-drink mega franchise.
I remember sitting in the placement office at the Indian Institute of Management, Calcutta, in 1971, feeling miserable at the choices before me: a life in the steel industry in Jamshedpur and one supervising labour in a cigarette factory in Calcutta.
Trusting my 21-year-old's instinct I looked away from these options, took a plane to Bombay and, in what was considered a revolutionary choice for an IIM graduate in those days, chose to work in a Bombay advertising agency.
Ad Katha
traces the origin of the Indian media's free spirit to Hickey's
Bengal Gazette
of 1780.
The eccentric James Hickey, the book says, made this pioneering newspaper "the channel of personal invective" and no individual, including the governor-general's wife, was spared.
Among the many other gems in the book is an early 20th-century ad for Ford.
It asks, "Why wait until after the monsoon to buy a car?" and assures us that "Ford closed cars are built to withstand all kinds of weather conditions... the bodies are all-steel... in a few seconds the spacious windows can be quickly closed to keep out the rain...."
Advertising in India today, says Gerson da Cunha in an essay in the book, is a Rs 30,000-crore (Rs 300 billion) industry - which makes it three times the size of its sibling, Bollywood.
It is this revenue that finances India's newspapers, magazines, TV channels and Internet sites, and allows our noisy, quarrelsome and democratic system to function in defiance of powerful governments and even more powerful private vested interests.
The mysteries of Indian consumer behaviour are well captured in a story in the book (I think this one comes from the autobiography of Prakash Tandon, the legendary head of Lever).
An early market researcher, questionnaire in hand, asks an Indian housewife who has her head covered demurely by her sari, "Madam, who does the shopping in your house?"
"Husband buys," says the housewife, barely meeting the market researcher's eye.
"Even personal items for yourself?" asks the sceptical market researcher.
"Husband buys," says the woman again.
She then waits for a few moments, and murmurs, "But I tell him what to buy."
ajitb@rediffmail.com