Liberalising regulations on satcom technology could attract billions of dollars in foreign investment, says T V Ramachandran.
Inflows of foreign direct investment (FDI) are welcome in any country, and particularly so for India, whose flagship programmes - Digital India, Make in India and Broadband for All - require several billion US dollars (or thousands of crores) a year in funding.
The opportunity is enormous, since we are at a very low base in all these; the challenge is to entice FDI inflows to make these happen, since domestic funds are limited.
We need to look at new sources of funds. It is here that satellite communications (satcom) can come in as the messiah to provide deliverance on these fronts.
Satcom has been little understood and much ignored in India.
The general perception is that it is super hi-tech, complex and unaffordable for most categories of telecom users and hence of no relevance for a highly price-sensitive emerging market like India.
This is incorrect and fallacious, just as in the early 1990s, it was thought by even fairly educated segments of society that mobile phones are unaffordable technology toys - playthings of the rich, and not needed by the common man.
The policy and regulatory changes rung in by the government between 1999 and 2004 brought about a dramatic transformation, with an over-90 per cent fall in retail tariffs and a corresponding explosion in adoption of mobile phones by most strata of society, including low-income groups, and a concomitant growth in personal incomes, productivity and GDP.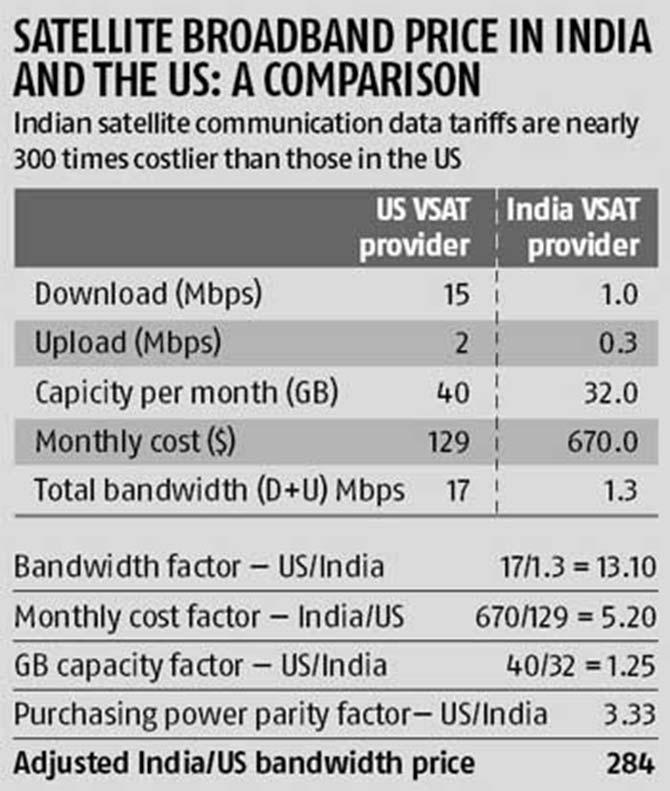 A similar revolution needs to happen in satcom, since the basic characteristics of the two are similar.
Are satcom tariffs too high? A simple analysis shows that the per-Mb price of data tariff through satcom in India is nearly 300 times that in the United States.
A country that showed the world how the lowest mobile tariffs could be achieved is struggling with satcom tariffs that are far above global norms and thus throttling usage.
This need not be so - indeed, should not be so. We need to apply the learnings of the mobile sector - as regards introduction of private sector players, enhanced and fair competition, an independent and empowered regulator, and separation and corporatisation of the government operator - to the satcom sector.
When the above reforms started taking effect from the year 2000 in the mobile telecom sector, not only did user tariffs crash dramatically, but FDI inflows started picking up.
In the 15 years since, over $18 billion was pumped into the sector, leading to over $350 billion in gross sectoral revenues, of which the national exchequer received about 30 per cent. In effect, the reforms facilitated the inflow of FDI amounting to about five per cent of the sector's gross revenues.
One can reasonably expect a similar or higher-order relationship for the high-technology satcom sector due to its ability to catalyse the use of broadband in every nook and corner of India.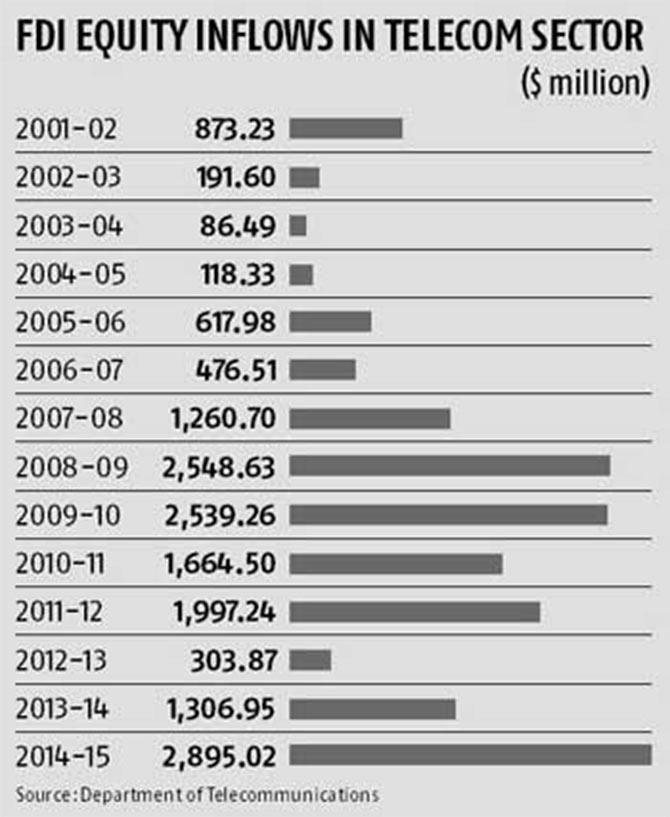 The multiplier effect of satcom on FDI and total investments could be much higher than with mobile communications, since it has a high probability of big investments happening for the manufacture of Indian satellites as soon as the sector is reformed and liberalised.
Applications from private players for permission to manufacture satellites have been pending for a few years now - a great example of Make in India just waiting to happen.
Apart from satellites, there is huge potential also for the manufacture of VSATs, end-user terminals, ground/earth stations and other devices and equipment.
A complete ecosystem of component manufacture for these could also be facilitated.
One of the several means to make satellite bandwidth even more affordable to consumers is by use of new innovations such as use of Ka HTS satellites.
In addition, there are other innovative technologies to help reduce costs and to increase affordability and availability of broadband satellite bandwidth, such as multicasting and caching at the edge, the use of non-geo satellites (LEO, MEO, HEO, etc) and mobile satellite solutions.
The Indian market is deprived of the benefits of these innovations, as these are not permitted.
A recent report by Euroconsultant predicts a sharp increase of HTS-satellite capacity to three Tbps globally by 2020. Broadband India Forum (BIF) - a technology neutral, not-for-profit think-tank for the promotion of the broadband ecosystem in the country - has projected India's required broadband satellite capacity at between 100 and 200 Gbps over the coming five to 10 years.
After introduction of reforms in the satcom sector facilitates all the innovations that have been mentioned above, to cater to this projected demand, BIF estimates that FDI of $3-5 billion can be brought in to launch satellites, develop and manufacture satellite gateways (ground terminals) and also for the manufacture of end-user terminals (micro-VSATs, satellite handhelds, etc).
Investment is also likely to come in for training and skilling local manpower to provide the professional services required in this sector.
This will bring in much-needed FDI and also lead to a spurt in local manufacturing of satcom components (including development and launch of our own satellites), thereby leading to the creation of a large pool of skilled manpower and tens of thousands of new jobs.
To spur investments and FDI inflows, all we need to do is to demonstrate the intent to bring about reforms and liberalisation, and concurrently provide a long-term view and commitment on procurement of broadband capacity through satellite for the next five to 10 years.
These reforms have the potential to bring about an increase in gross revenues of $30-100 billion over this time span and also lead to a spurt in GDP growth.
Apart from the contribution through growth in gross revenues, there is the multiplier effect that will accrue due to rapid growth in broadband penetration. (A World Bank report suggests that a 10 per cent increase in broadband penetration leads to a 1.4 per cent growth in GDP.)
India has much to gain once broadband penetration, currently languishing at a low 10 per cent or so, picks up momentum from investments and surges ahead.
Industry is confident that this could not only lead to a replication of the mobile telecom success story, but could actually even surpass it.
The author is Fellow of the Institution of Engg & Technology (London) and president of the Broadband India Forum. These views are personal.