Climate change, air quality, nutrition, even connectivity are joining the political agenda, and it will force a shift in policies, notes Shekhar Gupta.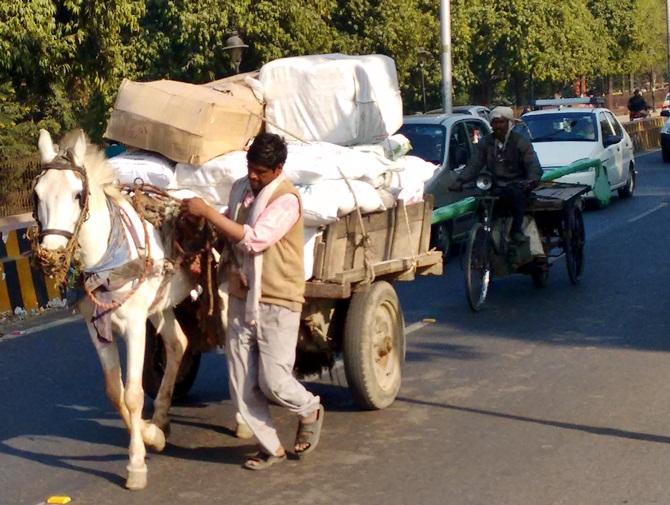 Nothing can change so dramatically between December 31 and January 1 as to alter the direction or discourse of our politics.

The beginning of a new year only gives us a handy excuse to lean back, and look ahead. Let's begin with our newspaper pages and prime time debates as we step into 2016.
The biggest story is Delhi's odd-even car rationing plan.
I am among those who remain doubtful that this band-aid can be a lasting solution in a country which still has very poor car-to-population ratios and without addressing socio-agricultural practices and fuel-policy distortions that lie at the root of our smog crisis. But the scheme has found wide popular support.
The quality of air we breathe is now among the foremost concerns on our minds.
Next, our opinion space is dominated by what could, in the past, have been a totally esoteric debate on Net neutrality.
This, of course, after a week of our multiple front-pages showcasing Facebook's Free Basics offer. In a society obsessed with party politics, identity issues and those of basic needs, would you have ever imagined a hundred crores-worth of front-page advertising "selling" a disruptive new internet service, for free?
Is India going nuts? Can air-quality and internet democracy be among our foremost concerns as we step into what is, after all, just another year?
Have the issues of roti, kapda or makaan; caste, religion or language; bijli, sadak or padhayi; corruption and misgovernance, all receded?
They haven't. But as we break out of a past weighed down by concerns of survival into a future of opportunity, our political concerns are also moving up the value chain.
An assertion like this can always be countered with reports of the drought-hit in Bundelkhand eating rotis made of grass, or farmers' suicides.
But similar arguments confronted my reckless belief in the summer of 2009 that India was moving from a politics of grievance to aspiration.
Better air quality and internet democracy are only a logical step in that new urge - better health care and quality of food may be next.
Climate change was esoteric until a couple of years ago. But today, with better awareness, spread of the media and internet connectivity, it isn't so.
Farmers and fishermen have been feeling the impact of climate change as much as have our cities, Chennai being the latest.
In Punjab, cotton was hit by white flies (a pest of citrus) this year, as delayed and patchy rains denied the farmer the weeks of drenching that would have drowned the larvae between crops.
Our foremost farm economist Ashok Gulati notes that we have just seen only our second instance of consecutive monsoon failures in 110 years, and while it is most unlikely that there will be a third, he is no longer so sure: "Who is to know after what has happened in Chennai?"
The fishermen have seen their catchments move - one reason our fishermen are being caught more often in Pakistani waters along the Gujarat coast is that they are forced to go longer distances chasing shifting schools of Red Snapper.
Just as we city folk are becoming conscious of our air quality, the farmer and the fisherman too understand that some of the natural adversity is man-made.
India is a unique large democracy where, from the extreme Luddite Left to the Saffron Right, there are no climate-change deniers.
Climate change, environment and air quality, therefore, are joining the key agenda items in politics and it will force our governments to shift policies. The Centre, for example, can no longer postpone fuel price and power reforms to protect our air and water resources.
If the farmer gets free power for irrigation - but only six hours a day and that too unpredictably late night, the inclination is to leave the tubewell switched on.
Prime Minister Narendra Modi may have had to concede his agriculture portfolio to an RSS appointee obsessed with "jaivik kheti" (organic farming), cow dung and urine, but he will have to modernise, or the farmer will punish him.
There is a new urgency, therefore, for fertiliser price reform to reverse nutrition imbalance, and unshackling seed research now smothered by technophobes of the Nagpur Right as much as it was by those of the NAC Left under the UPA.
More efficient and prudent use of land, water and air is now becoming a factor in our politics as well.
Mr Modi himself was the quickest off the blocks learning to promise a Digital India. But connectivity is to digitisation what irrigation is to farming.
One of the most devastating arguments used against the BJP by Nitish Kumar in the Bihar elections was call-drops, or deteriorating connectivity.
Many BJP campaigners had then laughed this away as a give-them-cake proposition in India's poorest large state.
But Bihar too has seen a spread of cheap smartphones and poor connectivity: dropped calls, while charges for data keep going higher and higher, are now an issue of quality of life, as well as inflation. That is why Mark Zuckerberg has waded into India with his "freebie" offer.
A population that worries about its air and water quality and internet democracy will not take long asking more serious questions on the quality of health care it gets from the government and the private sector, and the price at which it comes.
A new wave of resentment will soon build over the quality of education that an entire generation of Indians is getting at our declining public universities and our sub-standard private engineering and management colleges.
Going ahead, politics and voter choices will be determined not so much by whether you are for or against Macaulay or whether Aurangzeb was a tyrant or a much-misunderstood Mughal, but by how employable you are with a degree which your parents sold their lands for you to acquire.
Even on food, inflationary patterns indicate a qualitative surge: pulses, meat, milk, eggs, vegetables and fruits have all risen while grains stagnate as more people look for proteins and micro-nutrients. The quality and safety of food are emerging as new concerns too.
Sadly, our Parliament has remained frozen for an entire year. So, to some extent, has our government been. But public discourse has been moving, evolving and, yes, I say once again, moving up the value chain.
That is why the BJP concern for the cow leaves our voters as unimpressed as Congress complaining of curtailment of doles. It's a bit like when you are stalled on the expressway and objects in the rear-view mirror are rushing in closer.
My New Year wish, therefore, is reasonable: it's about time we moved on.