It's time we dispensed with the paper trail and shifted all labour law paper, workflows and permissions online, say Manish Sabharwal & Shihabudin Abdulkhader.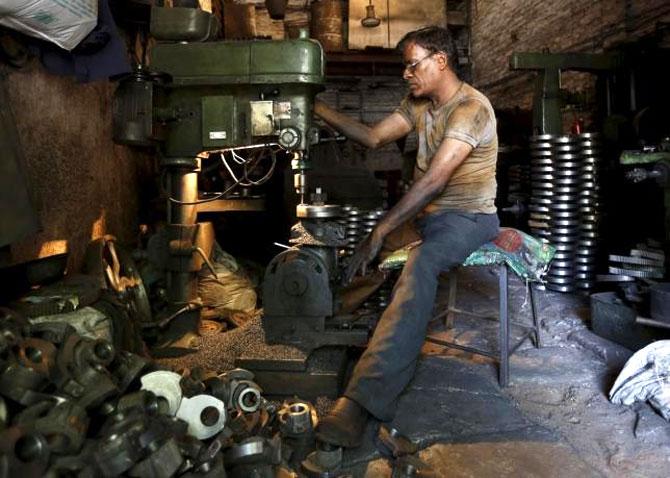 Our labour laws require service enterprises to maintain 25 registers and factories to maintain 45 registers.

All enterprises must file half-yearly and annual returns in duplicate hard copies.
Paper applications (in duplicate but often triplicate) are required for registration, licences and specific permissions (women working at night, 24/7 working etc).
Most state salary and attendance formats have more than 30 columns and require A-3 sheets.
Conservatively, a service enterprise with 20 employees needs 100 sheets a year - 60 for registers, 15 for applications, 25 for annual returns.
Factories need double this number. Assuming that 50 million enterprises in India include about 22 million factories, labour laws require five billion sheets of paper every year.
The website conservatree.org suggests that 500 sheets of paper are derived from three-fifths (0.6) of a tree; this means our labour laws consume 600,000 trees a year.
If we add the paper used by the labour departments, a lowball guesstimate would be another 400,00 trees.
Does this mass destruction of trees improve the condition of our labour?
Shouldn't any application or submission required in paper be more of an exception rather than the rule?
The more important question: Are all data submitted on this mountain of paper available for improving enforcement by cross-referencing and big data analytics?
Should every labour law or department or law require issuing its own unique number?
Is the best method of enforcing our laws more feet on street, with more discretionary power for inspection or algorithmic and anonymous targeting?
India's labour laws are a mess. There are 44 central laws and many more state laws.
Most employers will tell you that you can't comply with 100 per cent of India's labour laws without violating 10 per cent of them.
We know an employer who has been threatened with jail in one state if he continues to pay his employees by cheque (since employees don't have bank accounts) while another state has threatened him the same retribution if he continues to pay his employees in cash (since employees are exploited by middlemen).
India has the highest figure of payroll confiscation in the world; 45 per cent of salary for low wage employees goes to poor value programmes like the Provident Fund (the world's most expensive government securities mutual fund), Employees' State Insurance (India's worst health insurance programme, with a claims ratio of 48 per cent), Employees' Pension Scheme (a bankrupt scheme with the birth defect of both defined benefits and contributions) and much else.
Our trade union laws not only allow but also encourage outsiders in leadership positions; the politicisation of trade unions and the criminalisation of politics is a toxic combination.
Indian employers are over-regulated and under-supervised; we need fewer laws with merciless enforcement.
We should have four non-negotiables in labour laws - minimum wages, benefits, leave, and safety - while anything over that should be carefully legislated since the market for talent is now quite competitive.
The labour ministry must adopt the Prime Minister's Digital India programme by three interventions.
First, it must stop issuing individual numbers under each law and accept the Permanent Account Number (PAN) of the Income Tax Department as the Unique Enterprise Number (UEN) for any interaction with the department.
Second, it must set a 12-month deadline for every submission, application, and registration by an employer under 44 central laws to be done online through a single online portal (this will require some capacity-building and redesign of the current Shram Suvidha portal). This must include unifying all inspector regimes and staff under various laws, with their inspection list being generated algorithmically and anonymously by the UEN, which would cross reference various submissions.
Finally, it must only issue temporary numbers to individuals and incentivise employees to use Aadhaar for all employee records and employer submissions.
The Aadhaar Bill will enable the government to go "cashless, presence-less and paperless"; labour laws must use this infrastructure to move to an "online and deadline" world for all labour law compliance.
This would not only substantially improve the lives of job creators and employees but empirical evidence strongly suggests that compliance improves substantially if it is convenient and evasion is difficult.
India is currently a hostile habitat for job creation; most entrepreneurs have to substitute for the state in various ways (by generating power, providing transport, training employees, and much else).
This means that most of our companies are dwarfs (small companies that will stay small) rather than babies (small companies that will grow); of our total 63 million total enterprises, 12 million don't have an office, 12 million work from home, and only 8.5 million enterprises have any form of tax registration.
We only have one million companies of which only 17,000 have a paid-up capital of more than Rs 10 crore (Rs 100 million).
If we want more babies than dwarfs, we need more urbanisation, manufacturing, infrastructure and skills, and better schools, the goods and services tax and more labour law reform.
It is now clear that labour law reform is not equal to hire-and-fire; of course Chapter V B of the Industrial Disputes Act that makes our employment contracts marriage without divorce must change some day.
But before taking on philosophical minefields around fairness and the role of employers in providing social security, an impactful first step is moving all labour law paper, workflows and permissions online.
India's entrepreneurs, employees and trees will be grateful.
The writers work with TeamLease Services.