All the energy is spent on blocking projects - so once they are cleared, the mission is lost, notes Sunita Narain.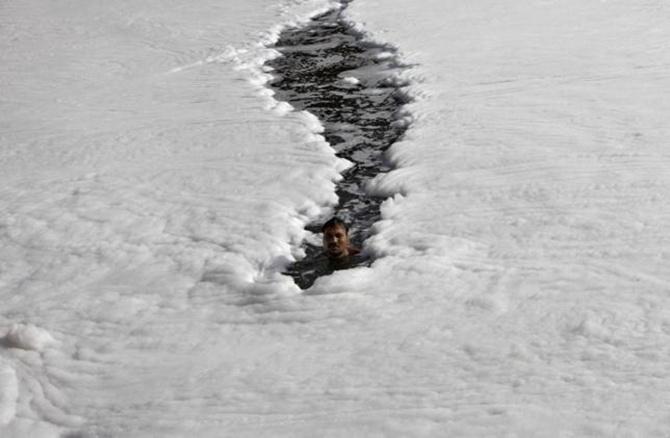 Image: A man swims in the polluted waters of river Yamuna in New Delhi. Photograph: Mansi Thapliyal/Reuters
Debates are essentially polarised and noisy. But for resolution and movement in life we need to go beyond absolute positions.

In an ideal world, there should be enough trust and confidence that once we begin to move ahead, there can be reviews, assessments and course correction.

But this is difficult in the current scenario, where the polluters, miners and dam-builders wield more power than the rest. Institutions that would help resolve conflicts and take credible decisions have been weakened.

Trust is lost and the worst defence plays out.
However, it is also a fact that playing defensive is not working in the long run. Environmental movements are able to stall, but not stop environmentally disastrous projects.

Worse, since no one is ready to go beyond her or his absolute position and discuss how a project would work if allowed, there is no improvement in the situation on the ground.

All the energy is spent on blocking projects - so once they are cleared, the mission is lost.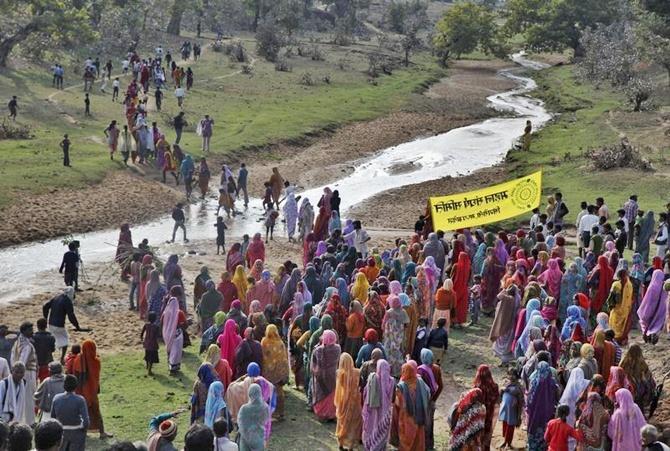 Image: Villagers walk towards the Mahan forest during a protest against a coal mining project in Singrauli district in Madhya Pradesh. Photograph: Nita Bhalla/Reuters
There is no emphasis - or even capacity in many cases - to look at the alternatives that would mitigate environmental damage.
Take the number of clearances - forest, environment, coastal, wildlife - that are granted by the central and state governments.

The focus has been on the process of clearance; to give it or not. This is when government after government has granted clearances as if there were no tomorrow. The rules are so convoluted that they have become meaningless.

The process is so complex that the same project has to be cleared by five to seven agencies, which have no interest in compliance of the conditions they would set.

The system is so designed that we cannot invest in the improvement of the environment. It is a travesty of good management.
Once the project is inevitably sanctioned, activists and affected communities take the matter to court.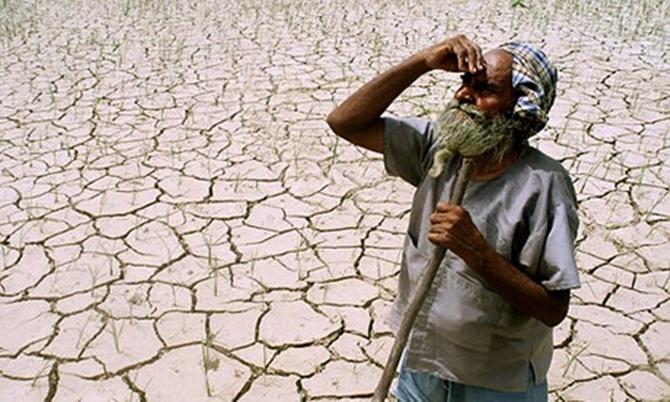 Image: A farmer looks towards the sky, while standing amidst his drought-stricken crop.. Photograph: Dipak Kumar/Reuters
The National Green Tribunal has provided another forum for such disputes. People's action is understandable because they have little faith in the credibility of the decision-making system - the environmental impact assessment is flawed and public hearings are abused.

But even going to court ends up stalling the project, not stopping or improving it.
In this way when a dam, mine, power plant or a shopping mall is built, there is little focus on the conditions that would make it environmentally better, if not the best. At the time of sanction, a list of conditions is laid out for the project proponent.

But the committee, which sets the conditions, has no real interest in their implementation.

The project proponent knows that nobody will come checking after the clearance is granted. So the game goes on.
The community in the vicinity of the project is left to face the consequences. It can go to the highly understaffed regional offices of the environment ministry or the state pollution control board, but usually does not have any real data or evidence.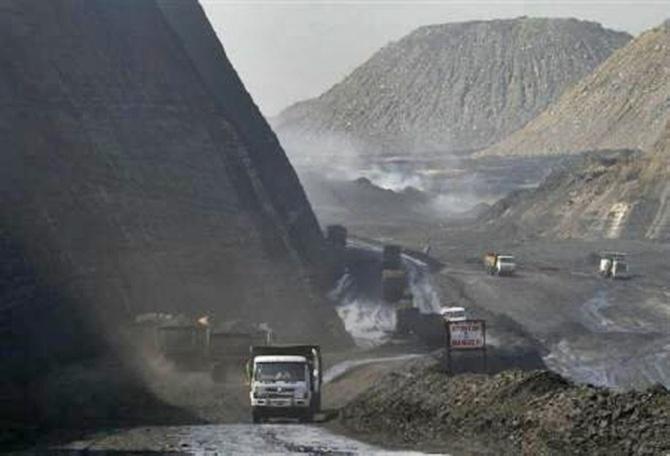 Image: A general view of the Gevra coalmines in Chhattisgarh.. Photograph: Rupak De Chowdhuri/Reuters
Even the state agencies have no real monitoring data. They have been so dismembered and weakened that they now depend on what companies tell them.

Industry self-reporting is the common practice in environmental management in India. We just don't say it.
The last resort of the activist or the affected community is to go to court. This process is not easy. Courts require hard evidence to show that a project is not adhering to environmental conditions.

We need institutions that can collect data, analyse it, put it in public domain and use it to verify and improve environmental performance. Without this, even the action by India's most well-meaning and emphatic judiciary is in danger of failing.
Even when the courts take tough action - say, in the case of mining in Bellary or sand mining in rivers or restaurants in upscale south Delhi - they manage only temporary stops.

The court needs viable remediation plans, but nobody is really interested in getting the management right. When a plan is presented and agreed upon, there is nobody to check implementation. So, as I said, the game goes on.
It is time we called a spade a spade. We should demand investment in better technologies, approaches and conditions to reduce the environmental risk and then make sure this happens. This will need serious capacity in the regulatory agencies and in civil society.
It is not easy. India - and countries like ours - will require new technical solutions and approaches to solve environmental problems.

It is a fact that the already industrialised world had the luxury of money to develop technologies and to fund mitigation and governance, and they continue to spend heavily even today.

We will never be able to catch up in this game. So we need to build new practices of environmental management, which are affordable and sustainable.
The writer is at the Centre for Science and Environment.