Indian scientists who wrote to the PM last week are not entirely rejecting GMOs but instead asking for caution and further testing to establish their safety, writes Rajni Bakshi.

When dignitaries at the World Food Prize conference, held in the USA in mid-October, dug into their lunch many of the dishes on their plates were the result of Genetically Modified Organisms (GMOs). The soybean-oil salad dressing, soy-fed chicken and soymilk parfait were all sponsored by companies promoting GMOs.
Even the winners of the World Food Prize this year were three scientists who have promoted GMOs – two of them employed by Monsanto and Syngenta, giant agro-industry multinational companies.
How in this context should we view the appeal sent last week to Prime Minister Manmohan Singh by leading Indian scientists asking for caution on the open release of GMOs in India? Is there room to go beyond the polarized discourse on this issue?
First of all this is not a conflict between those who are being scientific and those who are either anti-science or anti-progress.
As the scientists say in their letter to the PM their concern is with "the unpredictability and irreversibility of Genetic Modification (GM) as a technology and the uncontrollability of GMOs (Genetically Modified Organisms) in the environment". They also go on to point out that across the world these concerns have been "raised first and foremost by scientists who are free of vested interests, on scientific grounds."
Significantly, the World Food Prize is backed by large American agro-industrial companies and the US State Department. What is interesting is that this year they chose a critic to deliver the keynote address at the World Food Prize function.
Ghana's Cardinal Peter Turkson opened his address by warning the audience that his words might cause indigestion. Cardinal Turkson is president of the Pontifical Council for Justice and Peace and a known critic of GMOs.
"It is hazardous -- and ultimately absurd, indeed sinful -- to employ biotechnology without the guidance of a deeply responsible ethic," Turkson said.
According to a report in the National Catholic Reporter, Turkson's aim is to create dialogue: "He's not interested in people lobbing insults back and forth."
It is in this spirit that the letter to the PM by leading Indian scientists needs to be seriously considered and acted upon.
Indian scientists who wrote to the PM last week are not entirely rejecting GMOs but instead asking for caution and further testing to establish their safety. Among the top five signatories of the letter are Padma Bhushan Dr P M Bhargava, Founder Director, Centre for Cellular and Molecular biology, Hyderabad; Prof R N Basu, Former Vice Chancellor, Calcutta University; Dr V S Vijayan, Former Chairman, Kerala State Biodiversity Board; Dr Tushar Chakraborty, Senior Scientist, Indian Institute of Chemical Biology, Kolkata and Dr Dinesh Abrol, Jawaharlal Nehru University, New Delhi. The letter has been endorsed by 251 other scientists.
Apart from the irreversible impacts of GMOs in our food, farming and environment, says the letter, there are also grave concerns about its socio economic dimension. Adoption of GMOs would put more and more control of agriculture into the hands of companies that manufacture GMO seeds.
"The concentration of control of the most important input in agriculture, namely seeds, through a technology implemented with rigidly enforced Intellectual Property Rights is a matter of concern in view of the ease with which tinkering at the level of genes allows exclusive monopolistic rights to accrue to commercial entities" says the letter by the scientists.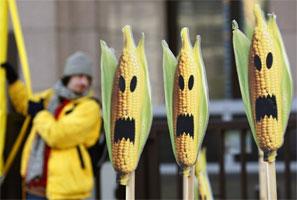 It goes on to add: "Since most such IPRs on important components and processes of GM are already in the hands of a handful of MNCs, this will inevitably lead to their monopolistic power over Indian agriculture over time."
The Supreme Court of India had set up a Technical Expert Committee (TEC) in response to a Public Interest Litigation filed in the court by activists who are concerned about the open release of GMOs. The main emphasis of the letter by the scientists is to endorse the final report of the TEC.
This is largely because the TEC's report says that bringing GMOs into any open air environment constitutes an environmental release. Industry scientists have argued that confined field trials do not constitute an 'environmental release'.
The TEC's report has also noted that not all GMOs are the same in terms of the risks they pose, nor are they needed in the Indian context except when no other options exist. It also refers to a 2004 report by the Task Force on Agricultural Biotechnology, led by M S Swaminathan, which stated that GMOs might be "resorted to when other options to achieve the desired objectives are either not available or not feasible".
Above all, the scientists are appealing for all members of biotechnology regulatory bodies to be free of any conflict of interest.
It is very likely that this letter to the Prime Minister will now be countered by other scientists who promote rapid deployment of GMOs.
Those who care about our collective food future and feel confused by the GMO war might seek hope from the fact that a dissident like Turkson was the keynote speaker at what is probably the biggest event of global agro-industry – the World Food Prize awards ceremony.
Whether or not his hosts actually respond to Turkson's advice the core issues have been clearly laid out at the centre-table of corporate power.
Turkson, backed the labeling of foods that have been produced using GMOs. And he questioned the economic value of pushing GMO technology for small farmers, especially those from developing nations.
"It is not [farmers] who are missing the point. Whoever refuses to look at the whole food insecurity picture -- people and their dignity and their lives as well as food production and distribution -- will miss the point," he said.
Finally, he urged both sides of the issue -- of whether to use biotechnology to solve the world's hunger crisis -- to sit down and try to find a solution that works for all.
If both bio-tech companies and agricultural activists can act on this advice the GMO war might yet be turned into a problem solving dialogue.