In over six decades of democracy, India has had a grim record of policies and laws that were intended to foster fairness and equality to all, says Rajni Bakshi.

The austere simplicity of the Bombay Sarvodaya Mandal's ageing single storey building illustrates why the term 'sarvodaya' is commonly regarded as a relic of a bygone era.
Sarvodaya, literally uplift of all, defined Mahatma Gandhi's agenda for independent India.
Yet it is now commonly associated with either romantic idealism or a doles-to-poor variety of socialism – not the kind of economic dynamism required to generate millions of new jobs every year.
What then are the prospects for Sarvodaya to be the core purpose of an economic democracy framework?
First of all it is vital to appreciate why some of those who are committed to economic democracy are nevertheless sceptical about directly working for uplift of all and instead repose their faith in markets.
Secondly, the real tussle is not between a pro-markets versus anti-markets approach to economic democracy. Instead the challenge lies in working out what kind of market culture, not just mechanisms, will foster sarvodaya.
Thirdly, there is need for dialog among competing perspectives about how to tackle the key problem – the primacy of money profits over social and environmental gains. Can value itself be redefined?
In India, over six decades of democracy, we have a grim record of policies and laws that were intended to foster fairness and equity becoming counter-productive.
Rent-control laws were once framed in ways that caused a shortage of accommodations – hurting those who can only afford rental homes. Labour laws have worked such that over 90% of the work force is left without any protections.
Therefore one approach to economic democracy calls for shrinking government's role in the economic sphere.
"The state or any powerful fellow-citizen should not be in a position to tell me what to produce, consume, own, buy, sell bequeath and so on" says Jerry Rao, a serial entrepreneur and promoter of housing for low-income families.
Rao, who is currently doing a PhD on Gandhian economics at IIT Mumbai, argues that the biggest obstacle to economic democracy in India is that there are still too many regulations, permits, licenses, required for economic activities, which do little or nothing to protect the common good.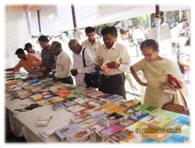 Narayan Ramachandran, formerly country head at Morgan Stanley, agrees that the key to economic democracy is a fair and free competitive market system.
Ramachandran, is now chairman of Inklude Labs a company that promotes market based innovation for social justice as one way of fostering the right sort of market culture.
From another vantage point it is the government's tilt towards the dominant model of globalization that is seen as undermining economic democracy.
Dr Ramanjaneyulu GV, an agricultural scientist and founder of the Centre for Sustainable Agriculture in Hyderabad, says that since government policies are based on a capitalist understanding of economy we have trickle down model rather than equitable distribution model.
"Economic policies like signing World Trade Organisation agreements or bringing in Foreign Direct Investments or technologies like Genetically Modified crops are not based on any assessment of their impact on local economy" says Ramanjaneyulu.
Dharani and Malkha are illustrations what many social activists regard as the bench mark of economic democracy – empowering the local economy.
Dharani, a Mutually Aided Cooperative Society of small farmers in Anantpur District of Andhra Pradesh, aims to give producers higher returns by shifting to organic farming to revive depleted soils and give consumers better quality food.
Producer owned companies of this kind are coming up across India, buoyed by the popularity of 'social enterprise' and 'impact investing' – where returns are defined in terms of money profits as well as positive social and environmental impacts.
Similarly, the Decentralised Cotton Yarn Trust, a non-profit organization based in Hyderabad, has worked with small holder cotton farmers who otherwise had to sell their produce to distant buyers that supplied large spinning mills.
Meanwhile handloom weavers have been slipping deeper into poverty because they lacked a reliable and affordable supply of cotton yarn.
The use of small scale pre-spinning machines makes it possible for the cotton to be locally processed and made ready for spinning into yarn literally in the handloom weaver's backyard thus dramatically improving the weaver's prospects in the marketplace.
"Given the size of the Indian economy the scale of the Trust's work is negligible -- 5 sets of cotton processing machines make around 10,000 kg of yarn annually, which is woven on handlooms into 67,000 metres of cloth" says Uzramma, one of the founders of the Decentralized Cotton yarn Trust.
"But Malkha, the cloth produced by this process, demonstrates an important dimension of economic democracy – locally controlled factors of production leading to decentralized wealth generation through a product that finds markets across the world". Malkha has caught the fancy of fashion designers in India and abroad".
Above all, endeavours like Dharani and Decentralised Cotton Yarn Trust push the envelope on how 'profit' can be defined, which is not easy within the prevailing eco-system of the market.
The phenomenon of social enterprise has highlighted the importance of social and environmental 'returns' but it has not altered the primacy of money profits.
There are no simple answers but much to build upon. For instance, says Ramanjaneyulu, ten years ago no attention was paid to the links between ecologically sound farming and well-being of both farmers and consumers.
Today, he adds, there is "a shift towards strengthening farmers institutions to deal with the market and a focus on small and marginal farmers, particularly women farmers."
These might well be small steps for creating a climate in which, as Ramachandran says, "markets act without hubris and greed."
At present there is virtually no dialog between votaries of different various versions of economic democracy. There are serious differences of outlook on how to link the local with the global economy and whether it is at all possible to challenge the primacy of capital.
But there is a substantial common ground upon which to build. Diverse votaries of an economic democracy framework could well work together to – at the very least – prevent vested interests from capturing and distorting the regulatory machinery to benefit a few.
More ambitiously they might collaborate to create a more refined understanding of both the meaning and mechanics of economic democracy.
---
Rajni Bakshi is Gandhi Peace Fellow at Gateway House. She is also the author of the award winning book 'Bazaars, Conversations and Freedom: for a market culture beyond greed and fear'