The unstated assumption is that the job applicant is in some way responsible for his employability problem, says Ajit Balakrishnan.


The word "employability" is much in the air these days. Trade associations like Ficci and Nasscom hold conferences and commission reports about it; company boards debate it; and human resource managers in companies wring their hands over it. It is used as a code word to signal deep-seated disappointment about the quality of Indian college graduates. The term first surfaced in the late 1990s, when Indian IT companies were struggling to recruit tens of thousands of computer programmers to meet the exploding international demand for Y2K software conversion services.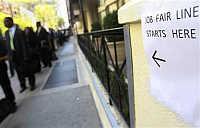 At that time the employability problem meant having to interview a hundred candidates to find even one or two with a modicum of software programming skills.
The IT services industry solved the employability problem by setting up large in-house training facilities to teach computer programming skills to recruits who had ostensibly already graduated from engineering colleges with computer programming degrees.
The term resurfaced in the early 2000s, with a different meaning. This time recruiters for the booming offshore call centre industry started using the term "employability" to describe the problem of finding enough people who could speak English well enough to perform a call centre operator's job.
Conferences were held by trade bodies such as Nasscom, Ficci and the Confederation of Indian Industry; reports were issued by consulting companies; and human resource managers were seen wringing their hands once more - but this time for a different reason.
In the debates held about employability in these two waves, the gaze of the debaters and analysts had steadily been on the job applicant. The unstated assumption was that the job applicant was in some way responsible for his employability problem. Perhaps he did not work hard enough on his algorithms. Perhaps she did not listen carefully enough to her English teacher.
The employability debate has resurfaced this year, but in another context. This time the term is being used to explain that challenging time that the so-called "Tier 3" management schools are having finding jobs for their graduates.
I attended a hand-wringing session recently in Delhi at a conference devoted to this new avatar of employability. I heard from the heads of these business schools that prospective recruiters were presenting them with a long list of skills missing in their graduates, the most prominent of which was something called "domain-specific" skills.
This meant that retailing companies wanted business school graduates who already knew the management challenges that retailing companies faced and the answers to these challenges; power sector companies had a similar expectation; and so did companies in banking, insurance, fast-moving
consumer goods and so on.
When the dean of a business school pointed out that his school had started programmes like an MBA in Infrastructure Management, I saw people gathered there nod in agreement - that was the way to go.
Even as I listened to this, I could not help but wonder whether Indian education was ready to turn full circle. The view so far has been that the goal of college education was to build a better human being; and that this would be accomplished by exposing the student to the world's great literature, introducing him to the rational methods of science and teaching him how to appreciate cultures and religions different from his.
The almost universal feeling in the air at these employability conferences and the tone of the reports from consulting companies were that it was time we converted our college curricula to teach vocational skills.
I could also not help remembering the time when getting an entry-level job in India's corporate sector meant a public school (Doon, Lawrence and so on) education on your resume and references from uncles in senior positions in similar firms. Job Interviews were held at locations like the Bengal Club, the Delhi Gymkhana or the Willingdon Club.
Employability in that era meant being able to negotiate your way through such staple requirements. Mercifully, the era that demanded such employability skills died in the 1970s with the "boxwallah" firms that demanded them - Metal Box, Binny's, Burmah - Shell, to name a few.
The advent of the Indian Institutes of Management and the Indian Institutes of Technology brought a different notion of employability: students who could run a new steeplechase.
This meant they should score the highest in nation-wide objective-type tests, negotiate the group discussions and then survive the two-year grind that followed.
Perhaps "employability" is Indianism for what the French sociologist Pierre Bourdieu called "cultural capital". Cultural capital is an asset that an individual possesses, and on which an individual can get returns just like the returns that a person with regular financial capital can get. It includes, among other things, the way a person speaks, the way he dresses and the educational credentials he possesses.
Bourdieu's view was that exactly what types of cultural capital were deemed to be valuable in a society in general and in the job market in particular was determined by the powerful people of that society.
ajitb@rediffmail.com