The pipeline for well-qualified and experienced policy economists at senior levels of government has broken, leading to a growing dearth of suitable candidates for top economist positions, says Shankar Acharya.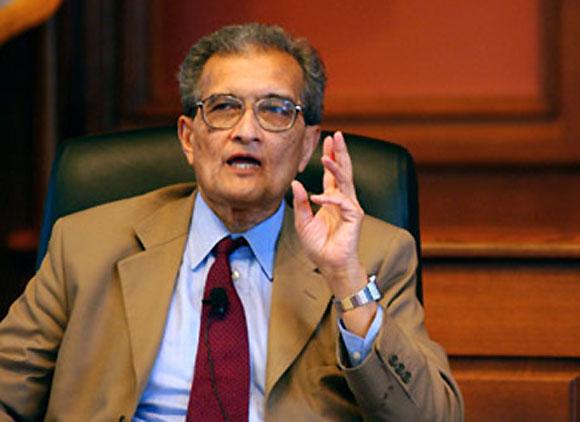 IMAGE: The 1970s witnessed an exodus of India's best academic economists like Amartya Sen to greener pastures in the US and UK. Photograph kind Courtesy: Harvard University
India has lots of good economists. And quite a few good ones in government too. Right? Wrong! On both counts.
First, consider academic economists. Remember the mid-1960s when the Delhi School of Economics alone boasted a galaxy of stars, including Amartya Sen, Jagdish Bhagwati and Sukhamoy Chakravarty?

Well, that was then. The 1970s witnessed an exodus of India's best academic economists to greener pastures in the US and UK.

The list is long and includes Amartya Sen, Jagdish Bhagwati, T N Srinivasan and Pranab Bardhan, to name a few.

In the words of the last exemplar, they became "winter Indians", living and working in universities in the West and visiting their homeland in the salubrious winter months.

In time, their acolytes and students followed suit. By the 1980s the pattern had become common: many of the best students of Indian MA economics programmes would typically go to universities abroad for their doctorates, mostly to the better American universities.
Few would return to India, except for short stints.
The net result of this steady migration has been the gradual, but inexorable decline in the quality of university economics teaching and research in India, helped along by the strengthening of non-meritocratic trends in broader education policies.
Today it is hard to find economics professors in Indian universities of the calibre that was available in the leading economics departments in the country in the 1960s.
What about economists in government?
In terms of sheer numbers the Indian Economic Service (IES) has a cadre strength of over 400, about 40 per cent of whom used to be in the erstwhile Planning Commission, a significant number in the Economic Division of the Ministry of Finance and the rest spread across different ministries and other government agencies.
The large majority of them would have joined service at a young age with a MA degree in economics, while a few would have PhDs.
Most independent observers assess that their average quality at entry would be lower than that of the Indian Administrative Service (IAS), not surprising given the preferred position of the latter in a generalist-dominated civil service structure.
As importantly, IES officers usually have had fewer opportunities for career advancement, experience and responsibility.
While they undoubtedly perform extremely important service, their members were rarely selected in open, competitive processes for lateral entry to coveted positions of economic adviser in a handful ministries such as finance, industry and commerce; at least until these positions were gradually "encadred" between the late 1990s and 2005.
Until then, the small handful of economic adviser positions (with open, competitive recruitment) was typically filled by strongly-credentialed PhD economists, often with substantial experience in international institutions such as the United Nations, World Bank and IMF.
This was certainly true of commerce (think Manmohan Singh, Vijay Kelkar, Jayanta Roy), industry (think Bimal Jalan, Rakesh Mohan), and finance (think Montek Ahluwalia, Rajiv Kumar, Ashok Lahiri).
Several of these very competent economists went on to hold positions such as chief economic adviser, secretary economic affairs, Reserve Bank of India governor and deputy chairman, Planning Commission. (Manmohan Singh held all of these in succession!).
No IES officer was ever so fortunate.
The other lateral entry stream into government for good quality economists was the Planning Commission secretariat (as distinct from members), which, over the decades, saw short or long stints by such stalwarts as Nitin Desai, Deepak Lal, Arun Shourie, Arvind Virmani and Pronab Sen.

Some, like Vijay Kelkar and Rakesh Mohan, first did a stint in the Planning Commission before joining as economic adviser in a key economic ministry.
In the last 15-20 years both these avenues for lateral entry of high quality policy economists into government have run dry: the first because of progressive "encadrement" of senior line ministry economist positions into the IES; and the second for less explicable reasons, despite a decade (2004-2014) when an economist was prime minister and another was deputy chairman.
The result is that the pipeline for well-qualified and experienced policy economists at senior levels of government has broken, leading to a growing dearth of suitable candidates for top economist positions.
The most obvious indicator of such scarcity is that from 2009 onwards, the government has had to turn to Indian economists abroad to fill the post of Chief Economic Adviser (CEA): Kaushik Basu from Cornell University for three years, followed by Raghuram Rajan from Chicago University for a year, followed by Arvind Subramanian from the Peterson Institute of International Economics.
To avoid any misunderstanding, let me state categorically that all three of these worthies are top-notch economists, who have brought lustre to the post of CEA, even if they have had to invest time and effort in learning about the institutional specificities and work patterns of the Indian government.
My concern is more with the dearth of high-quality policy economists in the government at large.
Even in better times they were only a handful, far fewer than necessary and desirable in modern governance.
The tragedy is that, over the last two decades, instead of expanding the number of senior economist positions open for competitive recruitment, our governmental system has gone in the opposite direction!
Indeed, with increasing complexity of modern governance and specialized agencies and regulatory bodies, there is now much greater need for good, well-qualified and experienced economists in many more economic advisory positions than was the case in the 1980s.
The need for more specialized skills in our generalist-dominated public policy systems is by no means limited to economists.
It's just that this piece is about economists, a tribe I know a little bit about.
And the need for sound economic analysis does cut across most domains of public policy.
That said, is there a serious prospect for a reversal of recent trends? I doubt it.
Perhaps, as a former prime minister used to say: "Only God looks after this country". I do hope divinity does not tire of this responsibility!
The writer is honorary professor in ICRIER and former Chief Economic Adviser to the Government of India. Views are personal.