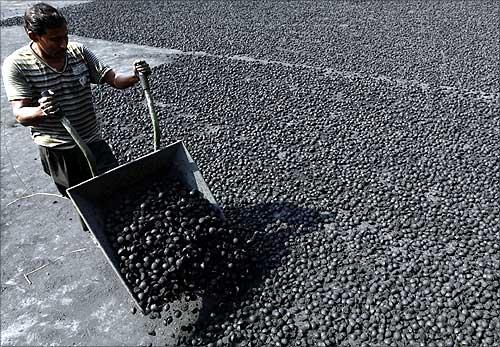 In the biggest-ever divestment, the 10 per cent stake sale in Coal India on Friday fetched the government Rs 22,557.3 crore (Rs 225.57 billion) in a bumper sale where state-run LIC alone picked up nearly one-third of the public offer.
The issue received bids for 67.52 crore shares of the value of Rs 24,210 crore (Rs 242.10 billion), over-subscribing the offer 1.07 times.
This is the biggest share sale by any private or public sector company in India and exceeds the previous record of over Rs 15,000 crore (Rs 150 billion) made by CIL itself in 2010.
The huge demand for CIL shares came on a day of high market turbulence with the benchmark Sensex falling by nearly 500 points and the total investors wealth slipping by over Rs 1.5 lakh crore.
The successful divestment in Coal India, where the government would now hold about 80 per cent stake, will help the government close the gap on its target of Rs 43,425 crore (Rs 434.25 billion) for the current fiscal ending March 31, 2014, while helping it shore up finances to meet fiscal deficit challenges.
The Coal and Power Minister Piyush Goyal said the success of the share sale reflects the investors' confidence in the government's ability to usher in reforms and improvement in the economy.
In the meantime, trade unions held demonstrations at some of the CIL facilities to protest against the divestment.
The government had earlier sold shares worth Rs 1,771 crore (Rs 17.71 billion) in SAIL and would need to sell further PSU shares worth about Rs 19,000 crore (Rs 190 billion) to meet the target.
Sources said LIC alone bought shares worth about Rs 7,000 crore (Rs 70 billion) in today's Offer For Sale, while insurance firms bought CIL shares worth Rs 11,360.13 crore (Rs 113.60 billion).
FIIs, including Fidelity, bought shares worth Rs 5,919 crore (Rs 59.19 billion) and banks bought shares worth Rs 2,500 crore (Rs 25 billion) while mutual funds invested around Rs 603 crore, they added.
Retail investors, who were given five per cent price discount, put in bids worth Rs 1,852.55 crore (Rs 18.52 billion). This amounted to less than half of 12.63 crore shares reserved for them, but still is the highest for any single-day Offer For Sale so far.
The FII demand was also the highest ever. On the other hand, Non-Institutional Investors bid for Rs 256.2 crore. "It is a matter of great satisfaction that the biggest-ever issue has concluded succesfully....We are giving it our best shot to achieve the disinvestment target," Disinvestment Secretary Aradhana Johri said.
"We hope to do many more disinvestments in the coming days," she added.
The total offer of 63.16 crore shares included sale of 31.58 crore shares and a green-shoe option for selling similar amount of further shares, which the government decided to exercise in the wake of robust demand.
The government said it has netted Rs 22,557.3 crore from the share sale. The final sale price is estimated at around Rs 358 apiece, the floor price fixed for the OFS.
Shares of Coal India closed at Rs 360.85, down 3.81 per cent over previous close on the BSE.
This was the first divestment in which the shares reserved for retail investors were doubled to 20 per cent. A minimum of 25 per cent of the issue size were reserved for mutual funds and insurance companies.
A strong pitch was made among investors from the US and Europe, as also various domestic funds and state-run behemoths like LIC and SBI, to participate in Coal India's mega share.
Top government officials, as also merchant bankers and advisors mandated for the share sale, pitched hard among foreign and domestic investors for the Coal India share sale over the last few days while projecting the huge growth opportunities present in the coal sector.
Markets regulator Sebi and the stock exchanges including BSE and NSE put their surveillance systems on 'high alert' to thwart any manipulative activities in Coal India shares in the wake of the divestment programme.
The other major stake sale lined up is in Oil and Natural Gas Corp (ONGC), which is expected to fetch at least Rs 15,000 crore (Rs 150 billion).
The other companies lined up for stake sale include NMDC, Indian Oil Corporation (IOC), Bharat Heavy Electricals (BHEL), National Aluminium (Nalco) and Dredging Corporation (DCIL). Five per cent stake sale in PFC and REC are also on cards.