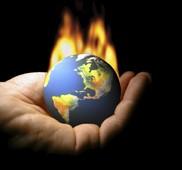 The World Bank on Monday warned that the Earth will be warmer by four degrees Celsius this century, causing 'calamitous effects', unless immediate action is not taken to mitigate the imminent climate change crisis that may have serious consequences for countries like India.

In a major report prepared for the World Bank by the Potsdam Institute for Climate Impact Research and Climate Analytics, the rise in temperature will trigger a cascade of cataclysmic changes that include extreme heat-waves, declining global food stocks and a sea-level rise affecting hundreds of millions of people.

The warnings come as nations meet in Doha, Qatar from November 26 for the next major round of international climate change negotiations.

According to the report 'Turn Down the Heat', all regions of the world would suffer -- some more than others -- but the report finds that the poor will suffer the most.

"A 4 degree warmer world can, and must be, avoided -- we need to hold warming below 2 degrees," World Bank Group president Jim Yong Kim said.

"Lack of action on climate change threatens to make the world our children inherit a completely different world than we are living in today. Climate change is one of the single biggest challenges facing development, and we need to assume the moral responsibility to take action on behalf of future generations, especially the poorest," he said.

According to the report, the increase temperature could result in sea level-rise by 0.5 to 1 meter by 2100, with higher levels also possible.

Some of the most highly vulnerable cities are located in Mozambique, Madagascar,
Mexico, Venezuela, India, Bangladesh, Indonesia, the Philippines and Vietnam.
The report says the 4°C scenarios are potentially devastating: the inundation of coastal cities; increasing risks for food production potentially leading to higher under and malnutrition rates; many dry regions becoming dryer, wet regions wetter; unprecedented heat waves in many regions, especially in the tropics; substantially exacerbated water scarcity in many regions; increased intensity of tropical cyclones; and irreversible loss of biodiversity, including coral reef systems.
It said extreme heat waves, that without global warming would be expected to occur once in several hundred years, will be experienced during almost all summer months in many regions.
The effects would not be evenly distributed.
The largest warming would be expected to occur over land and range from 4° C to 10° C.
Increases of 6° C or more in average monthly summer temperatures would be expected in the Mediterranean, North Africa, Middle East and parts of the United States.
However, the report said a 4°C world is not inevitable and that with sustained policy action warming can still be held below 2°C, which is the goal adopted by the international community and one that already brings some serious damages and risks to the environment and human populations.
Observing the world must tackle the problem of climate change more aggressively, Kim said that greater adaptation and mitigation efforts are essential and solutions exist.
"We need a global response equal to the scale of the climate problem, a response that puts us on a new path of climate smart development and shared prosperity. But time is very short," he said.