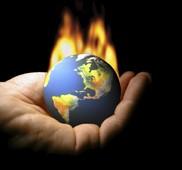 A number of rare and endemic species of flora and fauna found in the North East may soon be extinct due to climate change unless conservation efforts are accelerated warns a new report.

"Species with limited climatic ranges or restricted habitat requirements or small populations are typically the most vulnerable to extinction, such as Pygmy Hog found in grassland ecosystems of Manas National Park in Assam and biota restricted to islands or wetland areas," says a study by Assam's chief conservator of forests S P Singh.

The threats to biodiversity arising from climate change are likely to be very acute in this region on account of ecological fragility, economic marginality, and richness of threatened and endemic species with restricted distributions, says the study.

The severity of the impact is also likely to be increased due to habitat fragmentations and heavy biotic pressure on natural resources.

The study submitted at a climate change workshop organised by the Manipur Biodiversity Board here will be taken into account by the Planning Commission while preparing the 12th Five Year Plan.

In the Regional and Sectoral Analysis for 2030 of the Indian Network of Climate Change Assessment assessment, the Ministry of Environment and Forest has claimed that the temperature of the north-east region is set to increase by 1.8 degree -- 2.1 degrees during the next two decades.

In addition, the mean annual rainfall is also likely to increase by 1-6
mm per day while the number of rainy days in a year may decrease by few days.
"Biodiversity is intrinsically linked to weather pattern. Consequently with large scale change in weather, there are impacts on the habitats of species within ecosystem," points out Singh.
According to biodiversity records, north-east supports nearly 50 per cent of the total flowering plants recorded in India, out of which 31.58 per cent is endemic.
This region is also a part of Vavilovian centre of biodiversity and rich in wild relatives of crop plants.
As a result of the ongoing pattern of climate change, wetlands, grasslands and tropical rain forests are highly vulnerable to face shrinkage of habitat, loss of endemic species and proliferation of invasive species, the report says.
The vulnerability of ecologically fragile species like lichens, orchids, insectivorous plants which occupy highly specific and narrow niches is very high.
Similarly, the riparian forests are also highly vulnerable to climate change due to over-exploitation caused by the habitation of human population.
"Changes in stream flow, floods, droughts, water temperature, and water quality due to climate change will make fresh water ecosystem highly vulnerable to loss of biodiversity and ecosystem services," the study predicts.
Singh suggests that that if rapid and irreversible change in biodiversity is to be avoided, conservation strategies need to focus more on supporting the species' natural capacity to adapt to change.