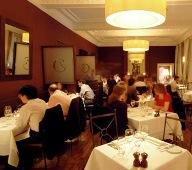 Swraj Paul's eldest son Ambar looks to resurrect his career with the acquisition of one of London's trendiest restaurants.
He was a staunch vegetarian until higher education took him to the US. He returned to London in 1982 with an MBA from Carnegie Mellon and a partiality for red meat.
From June this year, Ambar Paul, the older son of British-Indian industrialist Swraj Paul, will be able to turn that taste for steak and lobster into a business opportunity courtesy his purchase of Christopher's American Bar and Grill, one of London's most trendy restaurants.
For Ambar, 52, the Christopher's buy is more than a personal whim. Although he had handled a wide-ranging portfolio in his father's tea-to-steel Caparo Group in his earlier capacity as deputy chairman, he says his heart is in the hospitality business.
His cousins in India run five-star hotel chain, The Park. In the UK, Caparo has four hotels (comprising 150 rooms under four independent names).
Christopher's also represents a resurrection of sorts for him. Between the early eighties to mid-nineties he rose within the Caparo group to become CEO and deputy chairman.
In 1995, at just 37 years, he was afflicted by a life-threatening illness as a result of which he had to allow younger brother Angad to take charge as CEO by the turn of the new millennium.
Christopher's, though, is not a Caparo acquisition that has been given to the eldest scion to run. It's been bought with his own money. "I loved the brand and want to acquire more top-end restaurants," he says.
Ambar declined to disclose how much he paid, but given Christopher's location in the heart of London's most fashionable theatre district, it is reasonable to suppose it was no throwaway price.
Ambar says it took an unusually long time, nearly a year, to buy this Covent Garden property, not least because of differences over the price.
The previous owner, Andrew Hoffmann of the Roche pharmaceuticals family, was also particular that the new owner could take the brand to the next level and retain its 50-odd employees.
Christopher's was founded in 1991, but the address dates back to the nineteenth century when it was a papier mache factory. Its current ornate facade was added in 1870, when it became London's first licensed casino.
The restaurant gets its name from its founder Christopher Gilmour, son of the late Ian Gilmour, Conservative Party minister and former proprietor of The Spectator. Politics don't play a part in this purchase, Harrow-educated Ambar insists, although he votes Tory as opposed to his father's preference for Labour.
Meanwhile, he has big plans for his new acquisition. He believes that Christopher's, even at the current ?45 average spend per customer will return his investment in three years.
He has no plans to change the menu, which offers such favourites as 'Carpaccio of beef 'Harry's Bar' style' (a raw meat appetizer) at Euro 9 or 'USDA rump steak 10 oz' at Euro 22 (Ambar's health, however, prevents him from indulging his taste for steak and seafood - these days he sticks to chicken).
But he is keen to bring down the age profile of his customers, who are mostly in their 40s. "Today's millionaires are in their 20s and 30s in the UK," he says. The only other change is sprucing up the tired decor, an exercise he plans to complete by the end of next year.
There is, however, one set of customers Ambar does not wish to disturb. Christopher's counts the Who's Who in celeb circles as its customers -- from Prime Minister David Cameron to former Financial Times editor Richard Lambert, to Hollywood stars like Bruce Willis and Goldie Hawn.
With regulars like that, who needs advertising.