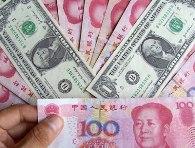 Playing down a billion dollar trade deficit in China in the first quarter of fiscal year 2011, economists said the country would return to surplus path from April-June quarter.
China reported its first quarterly trade deficit in seven years, registering a deficit of $1.02 billion in the first quarter, compared with a surplus of $13.9 billion last year.
The deficit was chiefly attributed to efforts to promote imports and the soaring prices of key imported commodities.
"Reduced export growth due to the rising costs of labour, land and oil, along with yuan appreciation and rising interest rates also contributed (to the deficit)," Zhang Yansheng, director of the Institute for International Economics Research under the National Development and Reform Commission (NDRC) was quoted by
China Daily
.
According to the General Administration of Customs, this is the first deficit since the first quarter of 2004 when a deficit of $8 billion was reported. Dong Xian'an, chief economist at Peking First Advisory, attributed two reasons behind the deficit.
"Chinese manufacturers hoarding commodities helped push up prices because of their anticipation of inflation, (along with) the Japanese earthquake and the turmoil in some Arab nations," he said.
Dong also cited China's increasing overseas purchases, including high-tech equipment, planes, raw materials, and soybean toward the end of 2010 as another reason for the trade deficit. However, economists believe the trade deficit would not last amid efforts to control capital flow and combat inflation.
"The tightening policies will hold back import growth by both volume and value," said senior economist Stephen Green, head of research at Standard Chartered Shanghai. "The second and third quarters will see trade surpluses. So pressure to appreciate the yuan will remain," he said.
China increased the benchmark one-year lending rate to 6. 31 percent on April 6, the second rise this year. Also, the consumer price index, due on Friday, is predicted to grow by more than 5 percent in March.
Zhou Shijian, senior researcher on China-US relations at Tsinghua University, said the trade surplus will return, as "exports usually see strong growth during the second half" of the year.
"A full-year surplus of around $100 billion is comfortable for China and its economic growth," he said. The trade surplus dropped to $196 billion in 2009, down from a record $295 billion in 2008. The figure further shrank to $183.1 billion last year.