In terms of FDI, the current year will be one of the best.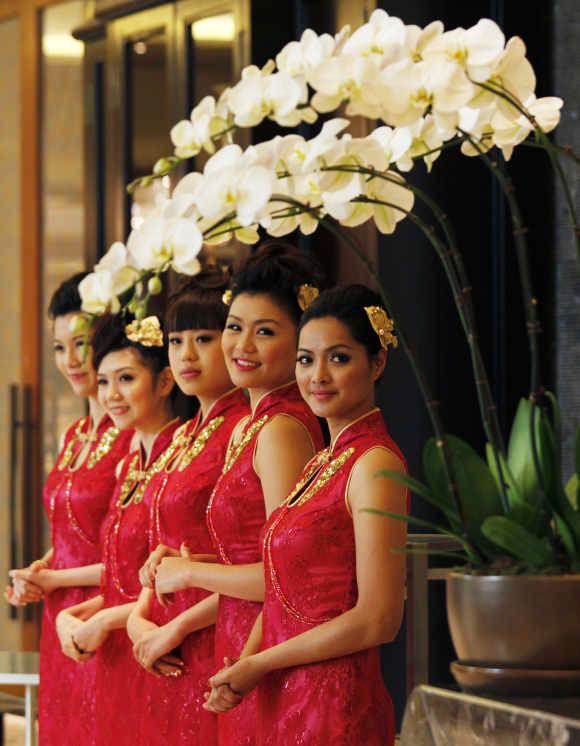 The current year will be one of the best in terms of foreign direct investments, says top money manager Advaita, the popular Delhi band, had set a peppy but leisurely tone with its fusion numbers, warming up the guests on a cool Saturday evening.
Rashesh Shah, chairman and chief executive officer of Edelweiss Financial Services, has dropped his sharp suits for a black bandhgala.
A client shakes his hand for arranging this not-so-usual corporate dinner at a not-so-usual venue near the Qutub Minar.
"Trust Edelweiss to do something hatke," he tells Shah.

Shah and Edelweiss, the quintessential Mumbai boys, have been wooing the capital for a while now.
"Delhi has become big for us.
"In the past two-three years, we have built up a lot of business here.
"We thought it would be a good time to meet our clients and friends here.
These events keep happening in Mumbai. We wanted to do it in Delhi this time," Shah, who walked straight out of a flight from New York, said.

"I find foreign investors are more positive on India than Indian investors or at least Indian corporations," Shah said. He feels the corporate sector had an expectation that this government would treat it "affectionately".

It seems as a disappointment because such affection has been hard to come by. "The government has its limitations," he said, "especially with suit-boot ki sarkar jibes."

But investors are glad with the fact that the hostility towards corporations and investors felt during the previous regime is gone. The recent clarifications on tax have helped.

He predicts that the current year will be one of the best in terms of foreign direct investments. And, eventually, the local companies would also understand the ground realities and start investing.

There could be some short-term volatility in the portfolio flows, but "eventually, we will end up positive," Shah said, quickly adding the biggest trend of the year though is the domestic flows.

"More and more domestic savings are coming into equities through mutual funds.
"Historically, 10-12 per cent of household savings come to the financial assets. That number had gone down to five-seven per cent levels after the financial crisis.
"Now, this number is coming back (to the pre-crisis levels)."

He also feels the slowdown fears looming large in China and overall pressure on emerging market funds will work in India's favour.
"Investors who were earlier ignoring India because they had exposure to China are now feeling they have to be in India."

While there is some uncertainty over the US Federal Reserve's call in December, Shah feels the Street has already absorbed it.
Ordering a red wine from the bar on the terrace, he dismisses concerns of overheating valuations fuelled by flows without adequate backing from earnings.
"In the 18 years in this business, I have learnt that 'don't ignore the short-term noise.
"But, don't be too worried about it," he quips.

In the 18 years, Edelweiss, which started as a niche player focusing on institutional broking business, has grown into a significant player in the financial services with a finger in every pie and an asset base of Rs 30,000 crore (Rs 300 billion).

It is one of the players that emerged stronger after the downturn and remained unscathed by the National Spot Exchange crisis that tarnished the reputation of many peers.

Edelweiss made a spirited bid for a banking licence, but lost. Shah says he is not in a hurry.
"We can grow like this for another three to four years. If you want to go above Rs 50,000 crore (Rs 500 billion), it becomes difficult."
A banking licence, which gives access to cheap current and savings accounts, would be critical beyond that point.

But, he is also conscious of the upheaval in the banking industry caused by technology and disruptive innovations.
"The payment banks are going to change the game."
Also, there could be some pressure on the banks in a falling interest rate scenario.
"He said banks typically do well when rates are looking north boosting net interest margins.
"I don't know if you have noticed, every time there is an upmove, people are selling off banks (stocks)."

Meanwhile, Edelweiss plans to focus on growth areas such as small and medium enterprise financing and asset reconstruction.
"Our ARC business is biggest in the country today. You should write about it," he pushes as he greets one of his SME clients.

What should the government do now to help make things better?
"Reduce the paper work. Make it a better place to do business." Shah sees the modest rise in the ease of doing business rankings as an encouraging sign that also shows there is lot of room for improvement.

More clients walked into the terrace for dinner, while Advaita wrapped up the show with a standing ovation.
The eager host wanted to make everyone feel at home. His wine was waiting. But, the night was young.