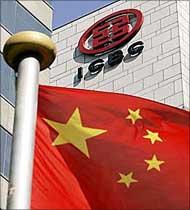 Net profit of the Industrial and Commercial Bank of China, the largest global lender by market value for 2012, rose by 14.5 per cent year-on-year to reach 238.7 billion yuan ($38.07 billion) cementing its position as the world's most profitable bank.

The bank's net interest income, or revenue from borrowers minus interest paid to depositors, rose 15.2 per cent from the previous year to 417.8 billion yuan, according to the company's annual report filed to the Shanghai Stock Exchange.

Commissions and income from services fees gained 3.8 per cent from a year earlier to 111.9 billion yuan, state-run
Xinhua news agency reported.
As of the end of last year, the bank's total assets amounted to 17.5 trillion yuan, while its outstanding loans totalled 14.88 trillion yuan, the world's largest in both areas.
The bank's non-performing loan ratio came in at 0.85 per cent, down 0.09 percentage points from a year earlier.
The board of directors proposed a pre-tax year-end cash dividend of 2.39 yuan for every ten shares that will be subject to shareholder approval.