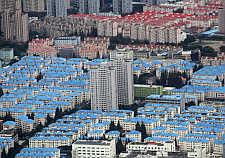 China's economic recovery unexpectedly stumbled in the first three months of 2013 as the annual rate of growth eased back to 7.7 per cent from the 7.9 per cent pace set in the final quarter of last year, official data showed on Monday.

The growth rate, announced by the National Bureau of Statistics, was weaker than a Reuters poll consensus forecast for an 8.0 per cent expansion.

Many investors had anticipated a possible surprise on the upside, with growth faster than the consensus, after a surge in liquidity in the economy during the first quarter and an uptick in export growth.

The liquidity and export data had encouraged expectations that growth would accelerate again in the first quarter, after snapping seven straight quarters of weakening expansion in the previous quarter thanks to policy action to put momentum back in the economy.

"This number may well explain why there was so much liquidity support in Q1," said Tim Condon, head of Asian economic research at ING in Singapore.

"Industrial production is unexpectedly weak and that's the source of weakness in GDP. Based on this, the consensus GDP forecasts are going to be headed lower and we'll certainly be looking at ours."

Despite the slower growth, China's real estate investment rose 20.2 per cent in the first quarter from the same period a year earlier, while revenues from property sales rose 61.3
per cent, adding substance to official worries over an unsustainable house price boom.
Analysts fear hot property prices could lead to monetary tightening, though some believed that it was unlikely given the weaker overall growth figure for the first quarter.
"I don't think this is a turning point for slower growth. I think the recovery is probably delayed but I think the recovery is still coming," said Tao Wang, a UBS economist in Hong Kong.
"Certainly with this number, policy certainly would not tighten and would continue to be quite accommodative. I hope they don't ease because policy is already very easy."
China's full-year annual growth of 7.8 per cent in 2012 was the weakest since 1999. The latest World Bank estimate published simultaneously in Singapore cut its GDP growth projection for China by 0.1 percentage point to 8.3 per cent for 2013, citing Beijing's ongoing efforts to restructure the economy.
Other data released alongside GDP showed industrial output grew 8.9 per cent in March from a year ago, versus expectations of 10.0 percent showed in the Reuters poll.
Retail sales in March rose 12.6 per cent on a year ago versus an estimated 12.5 per cent in the Reuters poll. Fixed-asset investment grew 20.9 per cent in the first quarter from a year earlier, versus an expected 21.3 per cent. The government only publishes cumulative investment data.