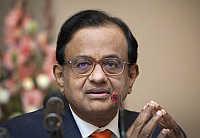 Finance Minister P Chidambaram said the government's next yearly Budget would be a reasonable one. The perception has been that it would be populist, as Lok Sabha elections are due in 2014.
"We are hopeful of ending 2012-13 at a satisfactory level of growth and then present a reasonable Budget, and then aim for high growth in the next financial year," he said in a briefing of a group of ministers on the media.
Analysts had said next year could see an election-year Budget. They said the government would bring a food security law and for that it would need additional allocation in the Budget.
Chidambaram also said he was confident the government would be able to achieve the fiscal deficit target of 5.3 per cent of GDP for the current financial year.
"The EGoM (empowered group of ministers) on telecom will meet shortly to deliberate on the remaining auctions, which are the unbid circles from GSM, CDMA and spectrum refarming, and the disinvestment process will start.
"We still have some time left in this financial year and I'am hopeful of getting revenues from somewhere to manage our fiscal deficit," he said.
Economic growth has been only 5.5 per cent in the first quarter and the second quarter is also expected to witness low numbers, Chidambaram, however, exuded
confidence that the second half would deliver higher growth.
He said economic conditions were challenging and the Euro zone had formally entered into recession but India was confident of a growth pick-up in the third and fourth quarter of this financial year.
The telecom spectrum auction had fetched Rs 9,400 crore. The government had in the Budget estimated Rs 40,000 crore from auction of mobile phone licences. On top of that, the Budget target from disinvestment was Rs 30,000 crore but no share sale has happened this year.
According to the revised consolidation schedule, the government is expected to rein in its fiscal deficit at 4.8 per cent of GDP in 2013-14.
This number in the Budget would reveal whether the government presents an election-year Budget or a populist one. Till September of 2012-13, the fiscal deficit stood at 62 per cent of the revised target at 5.3 per cent of GDP.
The growth rate slipped to a nine-year low of 6.5 per cent in 2011-12 and if it falls below that, widely expected to happen, it would be a decade-low economic expansion.
To questions on the enforcement directorate probing alleged violation of foreign direct investment norms by American retail giant Walmart, the minister said, "Unless a formal report is made to me, which is not every day, I would not have the details of probe."