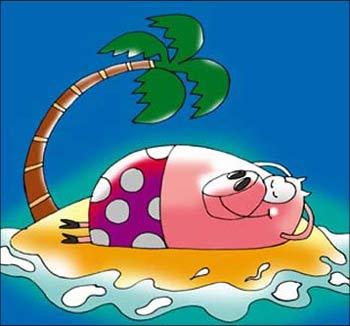 Are you at a loss while planning your finances? Do you find it difficult to save money?
Are you aware of the investment options available in the market? Do you know how to invest smartly, even with little money?
Should you buy mutual funds? Are they a profitable investment option? When and how should one buy mutual funds?
In an hour-long chat on rediff.com on Friday, Abchlor Investment Advisors MD and founder www.investonline.in Abhinav Angirish offered some valuable tips. Here is the transcipt:
nirock asked, I have invested in JM Basic and Emerging Fund?
Abhinav Angirish answers,  at 2010-04-23 15:55:10please exit both the funds. they are both underperformers and considering their fund management (JM), you must surely exit and look at other avenues.
---
BHUPENDER asked, WHERE I HAVE TO INVEST SMALL AMOUNT OF MONEY REGULARLY AND GOOD RETURN, PLEASE ADVICE
Abhinav Angirish answers, you can look at sip option thru mutual funds, you can start by investing as low as 500/month and get equity exposure. in the long term, SIPs have proven to be a fantastic tool to investors. most of the funds offer this fcaility today.
---
Kalpesh asked, I want to invest in Reliance Pharma Fund thorugh SIP ...is it a good fund...
Abhinav Angirish answers, reliance pharma is a thematic fund with primary exposure to pharma stocks. if you have a high risk appetite, you can look at this fund as theme funds are considered as most aggreesive with high risks & high returns.
---
lara asked, I shall be getting around of 11,50,000/- p.a. towards consultancy What is the maximum limit for service tax registration ? Previous Year, I earned around 7,55,000/-
Abhinav Angirish answers, the service tax limit is rs. 10 lacs. prevoius years shorftfalls cannot be carried forwarded to next year.
---
ramola asked, What is short term outlook anf long term out look of market
Abhinav Angirish answers, in the sort term, markets looks range bound from 4800 - 5350 (nifty levels). if it crossed 5400 successfully, you can see it going upto 5550. in the long term (2-3 years), you'll surely see new highs. overall, long term, India is the place to be!
---
Sumeet asked, Hi,Abhinav,HOw is reliance growth fund and hdfc top 200 fund for long term s.i.p.investment
Abhinav Angirish answers, both are brilliant large cap, long term, consistent performing funds and have made fantastic wealth for investors. as long as you have a 3-5 years view, you can invest with your eyes closed.
---
amitava asked, I had invested i DSp BlackRoch TIGER 3 years back, how is this fund?
Abhinav Angirish answers, this is a infrastructure based fund. again a thematic fund concentrating only in once sector. infrastructure sector is still recovering from the fall of 2008 and early 2009. i suggest that you shift to a diversified fund so that you dont lose the current opportunity. you can look at DSP BR Equity Fund
---
deepak asked, Hi Abhinav, I have invested Birla Sul Life 96 D & HDFC tax saver fund. Please let me know shall i continuw this fund for long time?
Abhinav Angirish answers, Both are ELSS funds. You must stay invested. Anyways, you have a 3 years lock-in period as you have tax benefits under section 80c.
---
zzz asked, i have 1000000 rs to invest ...should i invest it in mutual funds and how to divide it.. or should i take a property in around delhi with home loan..home loan floating or fixed..
Abhinav Angirish answers, this really depends on your needs. if you need liquidity, you must go in for debt funds. if you want to stay invested for a longer period and invest in equities, you must invest in equity based funds. property investments are not liquid and unless you need a house to live in, we do not suggest an investment from a borrowing.
---
Pranubal asked, Hi If a total home take is 1 lac, what percentage can be allocated for EMI
Abhinav Angirish answers, You can calculate at Rs. 950 - 975/lac at today's average rate of interest.
---
shiva asked, Hi abhinav I am a salaried employee I am getting some where around 20 to 25 thousand per month can u suggest me a good investment plan. Thanks, Shivakumar
Abhinav Angirish answers, SIP - SIP - SIP. you must use this as a MANTRA for your investments. Best investments option available for salaried people. Safer than upfront equity investments. GO FOR SIP!
---
dat asked, can i invest in Franklin India prima plus Mutual fund through SIP
Abhinav Angirish answers, We do not recommed franklin india prima plus currently. look at HDFC Equity fund instead.
---
krishna asked, Is there any ULIP fund that provide insurance cover as well growth of your investment
Abhinav Angirish answers, Sure. Most of them do. Look at Birla Sunlife Dream plan.
---
Parveen asked, Hello Abhinav, i want to invest some money but not know any thing about it like where and how. So what is good option to invest that too with one term that person can get money back any time with profit (in case of argent requirement of money).Suggest some thing.
Abhinav Angirish answers, Hi Praveen! You need to first make an asset allocation to understand exactly where you need to invest. This would depend on various factors such as your age, liabilities, future expected expenses, risk appetite, reguslar expenses etc. Only then should you decide where you should invest yout money. Please do not invest in an uninformed manner. use asset allocation for all your investments today and in future.
---
jhgj asked, Hello Abhinav, I've invested in SBI Mag Contra, HDFC Top 200, DSPBR 100, DSPBR Natural Resources, and for tax savings -- Bharati AXA, SBI Taxgain, Birla Sunlife'96, Principal (personal + taxsaver)and HDFC taxsaver. Please evaluate and suggest any modifications, if required. Thanks
Abhinav Angirish answers, Why so many funds? Having more funds, does not mean more returns. In short, you should have only 4-5 funds max in your portfolio. For now, exit SBU Contra, DSP BR Natural Resources and add them to HDFC Top 200 and DSP BR 100 respectively. As and when your Tax savers mature, consolidate them in 2 funds max and keep adding in the same fund whenever you wish to. Keep Birla Tax and HDFC Tax.
---
Deepti asked, If we invest in Mutual funds then we start getting Debentures and up to what period we get, like if i have invested Rs. 1 Lac then what is the debenture we receive, pls let me know.
Abhinav Angirish answers, What is MFs to do with Debentures? Kindly clarify. MFs can invest in Debentures in their portfolio but you dont receive a debenture in your name. You will get units of the MF scheme.
---
khlkhj asked, Hi How is METGOLD PLUS i have invested 60K last year??? is it performing good?
Abhinav Angirish answers, We dont recommend METGOLD Plus. Infact, we dont recommend ULIPS. we suggest Insurance only for the purpose of Insurance - COVERING YOUR RISK. Only Term plans for securing ones family from unforeseen circumstances.
---
Prashant asked, For my newborn Child I want to Invest 40000 per month for a Time Horizon of 15 - 20 years. I have selected SIPs of DSPBT Top-100, HDFC Top200, Magnum Contra and Kotac-30. Is my selection correct? Should I replace one of the plans with any Small-Mid cap fund? If yes then which one?
Abhinav Angirish answers, Hi! GLad to know that you have chosen SIPs for your newborn. Wise Decision. However, exit Magnum Contra and choose Birla Midcap OR Sundaram Select MIdcap. Rest look fine.
---
uppu anand asked, how is HDFC Prudence and Birla Sunlife Frontline and Birla Sunlife Midcap-Plan-A for long term investment
Abhinav Angirish answers, Prudence is a Aggressive Balanced Fund. Birla Frontline is a large cap and Birla Midcap is a pure midcap fund. You can continue to hold and invest in these funds.
---
vijay asked, Hello Abhinav, What are the best places to invest my retirement money? Also, where can I make the 1 lakh/annum contribution to save on income tax post retirement
Abhinav Angirish answers, Hi Vijay. Lots of places for retirement money. You can look at Debt Funds from various Mutual Funds. Look at MIP (Monthly Income Plans) for monthly dividends. You can alos look at Recurring Deposits from Post Office. You can also look at specified FDs for tax benefits undersection 80c.
---
moneybhai asked, hi Abinav i have invested 1000rs in HDFC growth, 1500rs in HSBC fund growth, 1500rs in Kotak 30 Equity & 2000rs in Reliance growth fund are they good mutual fund
Abhinav Angirish answers, I suppose it is HSBC Equity Fund? If so, you should exit this fund as it has been underperformer since long. Continue in HDFC Growth, K 30, Reliance Growth Fund.
---
khlkhj asked, Hi, Regarding short term investment -- Which is the best way to make quick money expect FD's.
Abhinav Angirish answers, You can look at debt funds like MIPs or other short term funds where investments are primarily in Debt papers. The income from these will be by way of Dividends which is free of tax. On an average, you can look at abt 1.5-2% of higher income here. Note that MIPs are a mix of Equity & Debt. Equity can vary from 5%-25% depending on the fund. Pls check the details carefully before investing.
---
Rajashree asked, Hi, I have savings around 15 lakh. I am going to leave the job in coming month. I have one home loan of 18 lakh. How do i do planning so that it will not effect my living and I can pay back the home loan also.
Abhinav Angirish answers, Interesting situtaion. What will be your future source of income? You need to have about 6 months of contingency funds to take care of your regular expenses. Unless you have a regualr earning, how will you clear off your loan? Will need more data before recommending.
---
Samji asked, Hi Abhinav, I turned 32 last November, I have home loan of 25K PA after going my home loan and monthly expenses, I can save around 30K per month. Please suggest how best I can invest left over fund. Is it advisable to repay home loan instead of doing savings? Please advise…
Abhinav Angirish answers, YOu msut look at paying off your liabilities as soon as you can. If you have an additional 30k / month, increase your EMIs by another 15k/month. This will get down your loan period to les than half. Balance amount, invest in 2 SIPs. One large cap and One midcap. As and when your income rises, increase the EMI amount and also the investment proportionately. YOUR GOAL SHOULD BE TO FIRST CLEAR OFF YOUR LOAN!
---
user123 asked, Which are the best SIP's to invest in approx say 2000 a month . I am 30 years of age
Abhinav Angirish answers, Choose 1 large cap (DSP BR Equity Fund), 1 Midcap (Sundaram Select Midcap). Invest 1000 in each.
---
husband asked, hi sir i have birla sun life midcap, birla sun life mip, canara robeco infra, dwS investment opprutinity, Franklin India flexi Cap, Franklin India high growth, HDFC MIP Long Term, HDFC Prudence, IDFC Premier Equity, IDFc SME, Morgan Stanly ACE, Reliance Growth, Reliance RSF, Reliance ELSS,sundram select Midcap, Sundram Smile, Tata Euity PE, templton India Short Term Income Can you please guide me is it good portfolio.. each has 1000 RS SIP.
Abhinav Angirish answers, Too many schemes SIR. Please consolidate to maximum 5 schemes. Keep a mix of Large Cap & Midcap funds. Divide equally. Do so for atleast 5-7 years horizon minimum. Long term rupee cost averaging will help.
---
Sneha asked, Pls. give me your suggestion about DSP Blackrock Technology fund for the next one year ayleast...
Abhinav Angirish answers, We are bullish on I.T as a sector going forward for the next one year. Stay Invested.
---
moneybhai asked, Hi Abinav thank for your comment one more querryReliance Diversified power sector how is this fund performed
Abhinav Angirish answers, We recommed this fund to our investors who can take thematic exposure and the risk involved. India story depends on infrastructure. Power will play a very important role. Considering these facts, we suggest to stay invested.
---
U asked, Please suggest best Debt fund which gives reasonable return
Abhinav Angirish answers, If you have a years horizin and dont wish to take any risk, you can look at Reliance Regular Savings Fund - Debt Plan. IF you can take some exposure to equities and require regular income, look at Reliance MIP, HDFC MIP - LTP. ICICI Pru MIP.
---
mat asked, hi. is it possible to save 25L for my child in next 16Years. I can invest upto 5L.
Abhinav Angirish answers, Sure you can. I'll give a simple calculation. Invest in a debt plan and use STP (Systematic Transfer PLan) tool to switch about 5000/month to diversified equity fund. Taking an avg of abt 12% annualised return, you can achieve your goal.
---
subhash asked, I am in late sixtees.pls advise where to invest rs.10000/-p.m.?
Abhinav Angirish answers, You should look at Recurring deposits to earn you max and safe yield. You can look at 9%+ returns.
---
he asked, hi, i would like to know the best elss for sip? is hdfc tax saver growth good enough?
Abhinav Angirish answers, Look at HDFC & also Canara Rebeco Tax Saver.
---
Abhinav Angirish says, 
Thank you friends. Hope I was able to answer your queries. Regards, Abhinav.
---