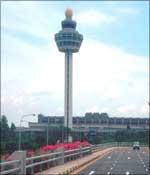 After one failed attempt, Singapore-based Changi Airport International finally made an entry into India's airport development business by announcing that it had bought 26 per cent for $20 million (approximately Rs 96 crore) in Bengal Aerotropolis Projects Ltd.
BAPL is a special purpose vehicle that is developing India's first airport-city project at Andal, around 200 km from Kolkata, at a cost of around Rs 10,000 crore (Rs 100 billion). The company has been promoted by Pragati Social Infrastructure and Development Ltd, Lend Lease Company (India) Ltd, Citystar Infrastructures Ltd and Pragati 47 Development Ltd.
"This is CAI's first investment in any airport project in India. We have gone beyond a planning and development consultancy partnership. CAI will have a larger role to play in the development of the airport that will be a showcase project for Bengal and India," Wong Woon Liong, chief executive officer of CAI, said.
He added that CAI saw attractive returns on investment in the medium and long term from the Andal airport-city project.
Wong and CAI Deputy chief executive officer Eugene Gan were inducted into BAPL's 10-member board on Thursday.
CAI and BAPL had signed a technical services agreement in February 2008, according to which CAI would review the master plan of the greenfield airport and supervise the execution of the project. It would also train the senior management of BAPL at the Singapore Aviation Academy.
The debt-equity ratio for the project was 1:2.25 for the initial investment of Rs 675 crore (Rs 6.75 billion) in the first phase, of which the airport alone would require an investment of around Rs 230 crore (Rs 2.3 billion). The land required for the total project is 3,100 acres. The West Bengal Industrial Development Corporation Ltd is in the process of acquiring the land.
A few years ago, CAI had tied up with Sunil Mittal to bid for the modernisation of Delhi Airport but pulled out days before the bidding. Mittal did not bid for Delhi, which eventually went to the GMR Group.
In 2007, CAI also floated a joint venture company with Tata Realty & Infrastructure, a subsidiary of the Tata group, to take up airport modernisation projects in India.
The two partners signed a memorandum of understanding to set a joint venture company in which Tata Realty would hold a majority 51 per cent and CAI 49 per cent.
The scope of the venture could include bidding for smaller airports, as well as the proposed Rs 4,235-crore (Rs 42.35 billion) Navi Mumbai airport project.
Asked about the fate of this joint venture Wong said, "The partnership stays. We are open for opportunities in the airport development sector in India."
Besides the Tata group, CAI has also explored the option of teaming up with hotel major Leela Group to develop Kannur airport in north Kerala.