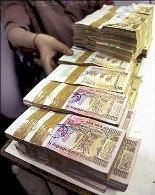 Ahead of the festival season, the government on Thursday announced a 7 per cent hike in the dearness allowance of its employees which will give them some relief from near double digit inflation.
Besides the five million central government employees, about four million pensioners will stand to benefit from the decision, taken by the Union Cabinet.

However, employees, especially in the junior scales, do not seem to be happy with the quantum of pay hike.

The pay hike would be applicable from July 1. The DA for the government employees would increase from 51 per cent of the basic salary to 58
per cent.
"The inflation index, which is the basis of calculating the DA, is not actually reflecting the cost of living and erosion in employees remuneration due to price rise,"
Secretary General of the Confederation of Central Government Employees and Workers, K K N Kutty said.

The general inflation for August was at near one-year high of 9.78 per cent. The hike in DA and DR would cost the exchequer annually Rs 7,229 crore (Rs 72.29 billion), while for the remaining period of the current fiscal the implication would be Rs 4,819 crore (Rs 48.19 billion), Information and Broadcasting Minister Ambika Soni said.