The Central Bureau of Investigation, on Thursday, filed two separate charge sheets against suspended NALCO CMD A K Srivastava and three others, arrested in a bribery case, for criminal conspiracy, forgery and other offences.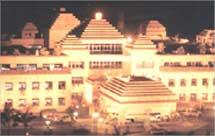 In the charge sheet filed before Chief Metropolitan Magistrate (CMM) Vinod Yadav, the CBI charged Srivastava, his wife Chandani Srivastava, alleged conduit B L Bajaj and his wife Anita Srivastava under penal provisions of the IPC dealing with criminal  onspiracy, forgery, using forged documents as genuine and impersonation.

The agency also filed a charge sheet before special CBI Judge Sanjeev Jain at Patiala House Court for offences under the Prevention of Corruption Act against the accused.

A K Srivatava, Chandani Srivastava, B L Bajaj and Anita Bajaj were arrested on February 25 after the CBI recovered about 10 kg of gold bricks and jewellery valued at around Rs 2.13 crore (Rs 21.3 million) as also Rs 30 lakh (Rs 3 million) in cash from their possession.  The mandatory 60-day deadline for the CBI would have expired on April 26.

The CMM has now fixed the matter for April 23 while Special Judge Sanjeev Jain will take up the case on April 25.

The CBI had earlier said the alleged B L Bajaj had admitted that he was acting as a middleman and had collected illegal gratification from G S Bhatia, Chairman of Bhatia Group of Industries, which ultimately reached A K Srivastava through another accused in the case, Ratan Pal Singh Bhatia.

The NALCO CMD was allegedly given the bribe by private firm Bhatia groups of industries to secure lucrative contracts.

The CBI had earlier informed the court that NBWs issued against G S Bhatia and Jaswinder Singh, who are evading arrest, have not been executed despite its efforts.