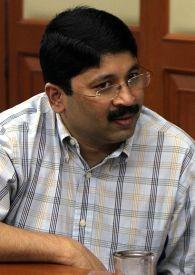 The Central Bureau of Investigation (CBI) on Thursday told the Supreme Court there was a difference of opinion within the agency on whether or not there was enough evidence to file a chargesheet against those being investigated in the Aircel-Maxis telecom controversy.
Former telecom minister Dayanidhi Maran, once a leading voice in the Dravida Munnettra Kazhagam (DMK) party, and his brother, tycoon Kalanithi Maran, are among key people being probed in this case.

CBI also told the judges the matter was awaiting the legal opinion of Attorney General G E Vahanvati, who was keeping unwell and, so, was yet to give his views.
Accordingly, the Supreme Court Bench decided the matter would again be heard on August 6. It also posted another telecom issue, the one related to Bharti Chairman Sunil Mittal and Essar promoter Ravi Kant Ruia seeking exemption from summons before the trial judge hearing the 2G spectrum allocation case, to the same day.

The Bench, headed by H L Dattu, read the reports from CBI and the Enforcement Directorate (ED) on Aircel-Maxis, given in sealed covers, and said it would wait for the said legal opinion before deciding its next step.

Also, CBI counsel K K Venugopal told the judges "we have given up", as the Government of Malaysia had "refused to cooperate with our officials" regarding the alleged role of Maxis' owner T Ananda Krishnan.

In April 2013, CBI had first told the Court there were "some difficulties" in the probe after it went abroad.

Bharatiya Janata Party leader Subramanian Swamy, a qualified lawyer and a party in this case, intervened in Thursday's hearing and said Maxis was divesting itself to Saudi Telecom and a French company. "If the company is sold off, everything will be over." However, the judges did not respond.

Swamy alleged the investigating officer in the case had also been transferred but CBI denied that. After this, the Bench directed that Rajeshwar Singh, deputy director, ED, would continue investigating the scam with two other officers till this work was done.

2G summons issue
In the batch of cases related to 2G spectrum allocation between 1998 and 2004 under the BJP regime, Bharti's Mittal and Essar's Ruia argued through their counsels they should not be summoned in the trial court.
They argued their companies were involved, and not they as individuals. The court adjourned hearing to August, as it wanted a comprehensive hearing on the complex procedural aspects.

CBI had named three companies in its chargesheet of December 21, 2012 — Bharti Cellular (now Bharti Airtel), Hutchison Max and Sterling Cellular (both part of Vodafone India now) — for criminal misconduct and conspiracy.

Its prime reason for not naming any individual from these companies was lack of evidence, it said. However, former bureaucrat Shyamal Ghosh, the then telecom secretary, was named in the chargesheet.

Trial judge O P Saini had decided Mittal, Ruia and Asim Ghosh (Hutch Essar's managing director at that time) were "prima facie" in "control of affairs" of their respective companies, which had been chargesheeted by CBI. So, they should be named as accused. CBI continues to argue they should not be named.

In October 2011, CBI had registered a case against the Maran brothers, Ananda Krishnan, and Maxis Director Ralph Marshall. It had also named Sun Direct, Astro All Asia Networks, UK, and Maxis, along with 'unknown officials' as co-accused.
Relief for now
Under a controversial deal, founder C Sivasankaran in December 2005 sold Aircel to Malaysia-based T Ananda Krishnan-promoted conglomerate Maxis and Sindya Securities
Former telecom minister Dayanidhi Maran (pictured) and his brother, tycoon Kalanithi Maran, are among key people being probed by CBI in this case