The currency with the public is 10.3 per cent higher than it was in the week preceding November 8, 2016 - from Rs17.97 trillion to Rs18.76 trillion.
Illustration: Uttam Ghosh/Rediff.com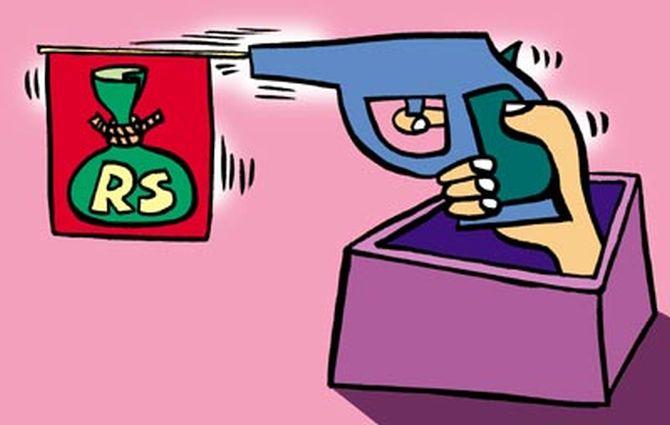 Two years after the government withdrew 86.4 per cent of the currency in the economy, cash has come back in a big way.
The currency with the public (CwP) is 10.3 per cent higher than it was in the week preceding November 8, 2016 - from Rs17.97 trillion to Rs18.76 trillion.
During the subsequent weeks following demonetisation, CwP fell to a low of Rs 8.98 trillion by January 6, 2017.
It was only in May this year that CwP crossed the pre-demonetisation level.
Two important factors have to be taken into account.
While currency in circulation is higher than what it was before demonetisation, a huge rise in bank accounts and deposits would be one of the reasons.
In 2017, 80 per cent of the adult Indian population had a bank account, said a recent World Bank report, as compared to just 53 per cent in 2014.
The Jan-Dhan Yojana has seen 329 million new bank accounts being opened, with Rs 86,480 crore in deposits as of October 17.
This is also reflected in the RBI data, which shows a 27.4 per cent increase in deposit money of the public, from Rs 10.56 trillion in the week preceding demonetisation to Rs 13.5 trillion as of October 12.
The second factor, economists say, is that the Indian economy is heavily dependent on cash for commercial or economic needs, and that there is a cultural significance in holding cash.
This is indicated by the ratio of the currency with public to broad money supply as measured by M3.
M3, which includes currency in circulation, savings and current deposits, large time deposits, and other liquid assets in the economy, has grown from Rs 124.15 trillion prior to demonetisation, to Rs 144.4 trillion as of October 12, RBI data shows.
CwP/M3, a measure of people's need for cash, had settled between 0.12 and 0.14 since 2012 going into 2015, but after demonetisation the CwP/M3 ratio fell to 0.06 by January 2017.
Subsequently, as remonetisation took place and more cash became available for people to withdraw, the CwP/M3 measure rebounded, increasing to 0.116 by August 2017.
For the week ended October 12, the ratio stood at 0.13 as compared to 0.137 in the first week of November 2016.
Throughout last year, the RBI replenished currency chests across the country with newly designed Rs500 notes as well as the new Rs2,000 note.
In August last year, the RBI also released a new Rs 200 note into circulation and introduced new Rs 10 and Rs 50 notes.
The government had claimed that the high-value denomination notes were in excess supply and, therefore, demonetisation would ensure a more equitable distribution of banknotes in circulation.
But peering through the RBI's annual reports does signify that such an objective has not transpired.
By the end of March 2016, Rs 500 and Rs 1,000 notes accounted for 86.4 per cent (by value) of the currency in circulation, as compared to the share of Rs 100 and lower.
After demonetisation, the share of the 'demonetised' Rs 500 and Rs 1,000 notes stood at 73.4 per cent by the end of March 2017, while Rs 100 and lower denomination banknotes constituted 26.6 per cent of the currency in circulation.
Meanwhile, the newly introduced Rs 2,000 notes comprised 52 per cent (3.29 billion pieces) of all notes in circulation, which illustrates the staggering pace at which the RBI conducted its remonetisation activities.
"In value terms, the share of Rs500 and Rs2,000 banknotes, which had together accounted for 72.7 per cent of the total value of banknotes in circulation at end-March 2017, increased to 80.2 per cent as at end-March 2018," states RBI's annual report for 2017-18.
Clearly, there is a tendency for people to hold on to high-demonetisation currency notes, and the supply dynamics between each denomination has not created an equitable split, as envisaged.