Demonetisation makes its presence felt at the Sonepur cattle fair.
M I Khan reports.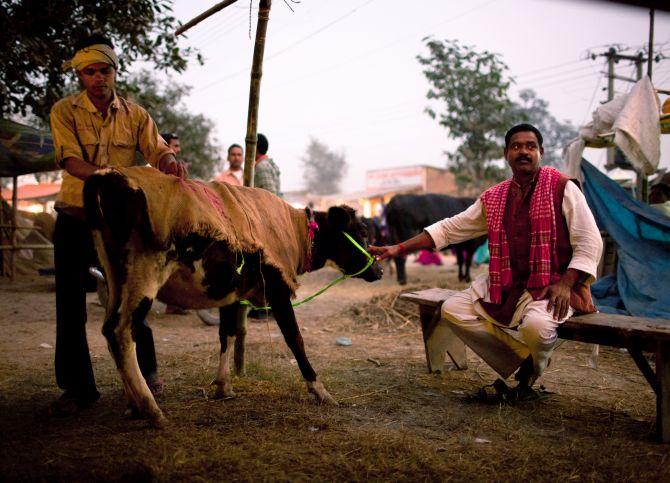 IMAGE: A cattle trader awaits customers in Sonepur near Patna. Photograph: Daniel Berehulak/Getty Images
Kedarnath Thakur and Ram Naresh Singh, cattle traders, Rameshwar Prasad Yadav and Rajvanshi Rai, horse traders, at Sonepur, Asia's largest cattle fair, curse demonetisation.
"Last year, in the first 10 days of the fair, more than 60% business was done. This year, hardly 10% to 15% business has been done," complains horse trader Jaswant Kumar Singh.
"Thanks to the cash crunch, it has been bad news for horse traders who brought their horses for sale," Singh adds.
Sonepur, about 30 km from Patna, Bihar's capital, is located in Saran district.
People from villages and small towns in Bihar throng to Sonepur every year to buy animals -- horses, cows, oxen, goats, buffaloes, donkeys, ponies, monkeys, rabbits, bears, cats, guinea pigs.
The fair, which began on Kartika Poornima, November 12, is spread across 500 acres near the confluence of two rivers, the Ganga and the Gandak, and has been held every year for many centuries.
"We deal in cash," says Thakur. "Farmers and other buyers of cows are not in a position to visit the fair as they have no cash."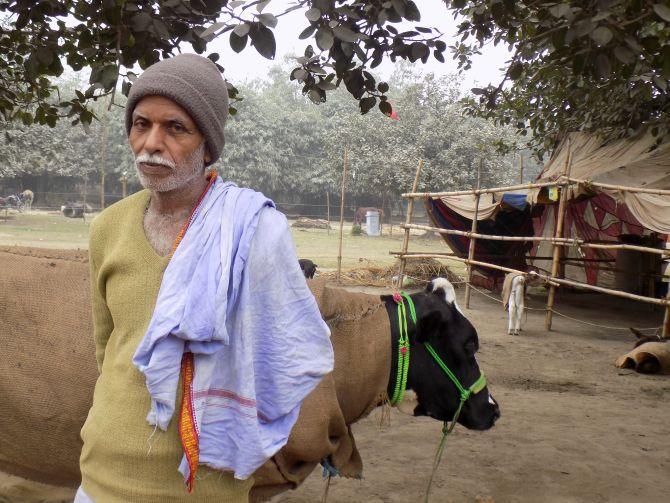 IMAGE: A cattle trader awaits customers at the Sonepur cattle fair. Photograph: M I Khan
Sonepur resident Surender Singh, 76, who has seen the Sonepur cattle fair for seven decades, says visitors are at least 30% to 40% fewer this year.
"Logon ke pass cash kahan hain?" Singh asks.
"There is a chance of only 50% business this year," says a senior Bihar forest department posted at the fair.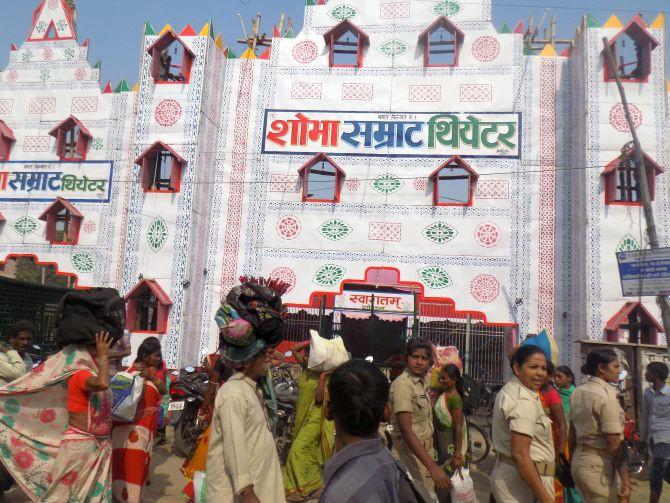 IMAGE: Theatres in the area are also affected by demonetisation. Photograph: M I Khan
"We never imagined that people would be without cash," say Reyaz Ahmad and Meraj, Kashmiri traders selling woollens at the fair.
"If people are without cash, how can they buy items from us?" they ask.
"We have been coming here for over a decade," they add, "the situation was never so bad".
Theatre owners, who stage risque dance performances at the fair, are also worried.
"We expected overcrowded theatres like in the past," an employee at one theatre says, "but hardly 50 to 60 per cent of the audience turn up."