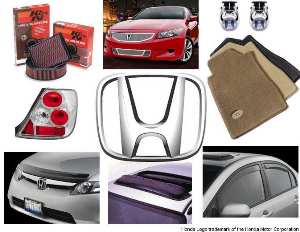 Affordable hi-tech accessories can enhance safety, convenience and ease of driving. The car accessories business is pretty huge. In India alone, it is nearly a billion-dollar market (both, organised and unorganised), which is only slated to grow as the Indian auto industry shifts into top gear.
Technology is driving car accessories that provide convenience, safety and ease of driving. And you can buy some of them off-the-shelf and install them in a matter of minutes.
One of them is xenon headlamps or high intensity discharge lamps. The name is derived from the fact that they are metal halide lamps that contain xenon gas.
The advantages are that for a given power consumption, they produce more light than regular halogen headlamps. Effectively, you get a stronger headlamp beam that lights up the road farther, depending on headlamp casing optics.
Companies like Philips offer these units for around Rs 15,000 for a set, while cheaper Chinese ones come for as low as Rs 5,000-7,000.
If intelligent lighting does not sound very interesting to you, then there's the carputer. As its name suggests, it's your own computer installed on the dashboard of your car. It is equipped with a screen, Intel Core Duo processor, satellite radio receiver, burner for your DVD, GPS radio and dual FM radios.
For example, Ford Motor Company and Microsoft Auto have already developed a carputer for Ford's work truck division last year -- with a built-in 6.5-inch, high-resolution touch-screen, Bluetooth, USB connectivity, GPS Navigation, voice recognition as well as general office applications, such as word processing, contact and calendar functions.
But do remember that installing the best in-car gadgets and accessories also means an invitation to thieves. So make sure that you have a good anti-theft system in place. While criminals have gotten smart, companies making such systems have tried to stay a step ahead.
There's a motion sensor technology that detects the slightest movement it considers unauthorised. Linked to the engine immobiliser, it disables the ignition system the moment it detects unauthorised movement.
Further advancements such as GSM-based engine immobilisers can send text messages to your phone, letting you know that the car has been stolen and it can even pinpoint the vehicle's precise location. You can then send an SMS to immobilise the engine, thus preventing it from being driven any further.
Such units will cost you Rs 3,000, or even more.
Don't fret if you are new to a city and don't know your way around. Try installing a Global Positioning Satellite unit on your car's dashboard. This navigation unit can help you in pinpointing your position as well as take you from point A to B using the shortest route possible.
Companies such as Garmin, MapmyIndia, Futuretronics et cetera offer these units with pre-installed maps with a promise to help you locate nearby ATMs, hospitals, temples and even direct you to a place you want to visit.
Prices of these units hover around Rs 10,000-25,000, depending on their size, features and number of maps installed.
With the price comes style and that explains why GPS units on the latest Audis sport a swanky 3D screen that tells you the kind of building you are visiting, down to its architecture. The Audi A8 W12, for instance, has smart tweeters that automatically come out of their receptacles when certain frequencies are played, while advanced versions of GSM-based security systems are available internationally.
It is widely expected that these technologies will eventually trickle down to more humble units as costs are rationalised.
Lastly, one of the most important and basic thing people install or change in their cars after they drive out of the showroom is the audio unit. From a basic setup of a head unit and four speakers, you can now graduate to audio systems with touch screens, DVD audio and video playback capability, auxiliary attachments for iPods and other portable music devices.
Manufacturers such as Pioneer, Blaupunkt, JBL and Sony are among the key players who have introduced systems that can incorporate sound volume controllers with head units that modify listening volume according to the ambient noise, inside and outside the vehicle.
The budgets for such devices are just endless with basic setups starting from Rs 10,000.
So, what's available on your neighbour's Mercedes S-Class today might be on your car five years from now.
Image: Honda car accessories