The 100-year old Calcutta Stock Exchange is finally set to launch a trading platform, which will enable its members to trade on National Stock Exchange (NSE)-listed securities in the next one month, a move that will give the ailing exchange a fresh lease of life.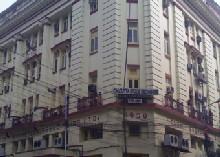 The exchange recently obtained nod from the Securities and Exchange Board of India (Sebi) for the platform sharing deal.

In a parallel move, last week, it inducted B Madhav Reddy as its new managing director and chief executive officer.

The post was lying vacant after Molly Thambi stepped down from the post due to difference of opinion with the management of the exchange.  Reddy has joined CSE from held high positions at Multi Commodity Exchange of India.

The platform sharing deal, not only  brokers in CSE will get access to cash and derivative segment of NSE, but companies listed on CSE will be able to be listed on the NSE under a special head, called  the permitted category, said Dipankar Chatterji, chairman, CSE.

CSE already has an arrangement with the Bombay Stock Exchange, which has about a 5 per cent stake in it, for platform sharing.
However, members of CSE had been demanding access to derivative trading at NSE.
It is to be noted, revival of CSE was one of the poll agenda of the ruling Trinamool Congress in its manifesto.
The government of West Bengal owns about a 4 per cent stake at CSE.
The exchange is now planning to move to the state government, demanding reduction of stamp duty.
"Once we start the NSE trading, we plan to go to the state government for reduction in stamp duty. At present, it is much higher than other states," said Chatterji.
Recently, the Madras Stock Exchange had also tied up with NSE for trade on both cash and derivatives segments on NSE's platform.
It is to be noted, in 2008, Thambi was brought in with the mandate to give a facelift to CSE. She was instrumental in initiating CSE's tie-up with NSE.
However, in spite of efforts to revive one of the oldest stock exchanges in the country, the process has not been smooth. Companies continue to delist from the exchange.
Since the payment crisis of 2001, when CSE went bankrupt, it has been in a limbo for quite some time. Post-demutalisation, when several entities picked up 52 per cent in the exchange, a new board of directors was appointed for revival.