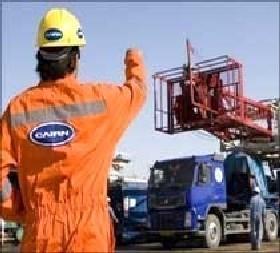 Cuts capex and staff numbers; hit with massive tax demand.
On January 22, after its third quarter results, Cairn India's chief executive officer, Mayank Ashar, said the company's robust balance sheet, low cost operations and world-class resource base gave it resilience in these times of a crude oil price slump.
Two months on, the resilience seems to have waned.
Cairn has slashed its planned capital expenditure (capex) by 60 per cent to $500 million against the earlier $1.2 billion.
The company also laid off around 250 employees or 14 per cent of the total. It will also renegotiate drilling contracts and be more selective about projects.
"Lower capex will impact volume growth and delay monetisation of resources. Hence, we cut our estimated compounded annual growth rate for production to five per cent, against the earlier nine per cent. We cut our FY16 earnings per share by 20 per cent each to factor in lower production," said Amit Mishra and Prashant Tarwadi of Axis Capital, in a note.
And, it has been issued a tax demand of Rs 20,495 crore for not deducting a withholding tax on alleged capital gains made by its former parent, Cairn UK Holdings, and it still awaits extension of the production sharing contract of its Rajasthan field.
"Though Cairn has some interesting discoveries in place, the tax issue is an overhang on the scrip. Cairn has indicated the earlier production guidance (forecast) of 7-10 per cent (annual) is no longer valid. Underperformance is highly probable," said Gagan Dixit, assistant vice-president at Quant Capital.
Anil Agarwal, the London-based billionaire-owner of Vedanta Resources, bought 60 per cent in Cairn India in October 2010 for $9.6 billion, making it part of his Vedanta group.
His brother, Navin Agarwal, is chairman of Cairn India and daughter, Priya Agarwal, a non-executive director on the board.
Those in the industry and analysts say Cairn India's performance has lacked punch under the Agarwals.
Market capitalisation is down from Rs 66,747 crore (Rs 667.47 billion) in 2011 to Rs 41,827 crore (Rs 418.27 billion).
The Ebitda (earnings before interest, tax, depreciation and amortisation) margin has dropped from 83.2 per cent in 2011 to 67.1 per cent at the end of this financial year's third quarter.
The share price has dropped 36 per cent from Rs 350.95 at the end of FY11 to Rs 223.10.
"Exploration and production is all about timely execution and providing guidance. Lately, Cairn has not been up to this game," said a senior analyst with a research firm.
The analyst added that functioning without a chief executive officer could have impacted the performance.
Cairn had been without a fulltime CEO since Rahul Dhir, the long-standing head, quit in August 2012.
The company first appointed P Elango as interim CEO and after he resigned in May 2014, Sudhir Mathur, the chief financial officer, was given additional charge as interim CEO.
Mayank Ashar took over in November 2014.
In January, Agarwal said he planned to create an Indian natural resources giant, on the lines of Rio Tinto, by merging group companies Sesa Sterlite, Hindustan Zinc and Cairn India.
Those in the industry say the rationale is the cash on the books of Hindustan Zinc and Cairn, against the big debt of Sesa Sterlite. Last October, Cairn granted a loan of $1.25 bn to Sesa Sterlite.
"Management transparency is now an issue with Cairn. Till Cairn was part of its UK parent, transparency was expected. If Cairn India is flush with funds, it should consider rewarding the shareholders and paying dividends, rather than loaning the amount to a sister concern," added Dixit.
On March 4, the indicated dividend payout was subject to availability of operating cash flows and Cairn would not plough its cash reserves to pay dividends. After the third quarter results, Cairn said it had net cash of Rs 17,784 crore.
Due to the fall in crude oil prices and lower production, net profit fell 53 per cent year on year to Rs 1,350 crore in the third quarter. Average crude price realisation for the quarter was at a low of $68.3 a barrel against $91.5 a barrel in the second quarter, a 10.8 per cent discount to dated Brent.
Cairn has been awaiting extension of its Rajasthan block for two years.
It however, received a nod from the Directorate General of Hydrocarbons this month to commercially produce gas in the block. Cairn estimates reserves from the Rageshwari Deep gas field at 1-3 trillion cubic ft.
A field development plan to produce 2.8 million standard cubic metres a day from FY17 has been approved. Cairn intends to double gas production to 0.7 mscmd in the long run.
TESTING TIMES
*Drop in crude oil prices have meant Cairn India re-negotiates its drilling contracts and be more selective about which projects to work on
*Cairn has slashed its planned capital expenditure by 60% to $500 million against $1.2 billion due to lower crude oil prices
*The company has been issued a tax demand of Rs 20,495 crore for failing to deduct withholding tax on alleged capital gains made by its former parent Cairn UK Holdings and it still awaits extension of the production sharing contract of its Rajasthan field