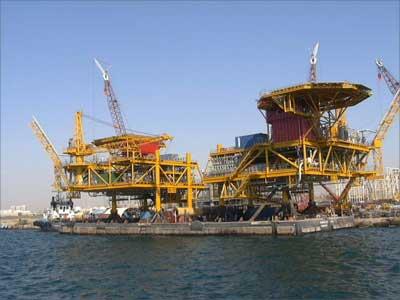 The Comptroller and Auditor General of India has pulled up state-owned Oil and Natural Gas Corporation for poor planning in hiring and use of drilling rigs, which resulted in a loss of Rs 7,995 crore (Rs 79.95 billion).
The CAG said the firm lacked uniformity in preparation of annual rig requirement plan, delayed rig acquisitions and hiring, was inconsistent in deployment and had an inefficient repair and refurbishment policy.
"ONGC's non-productive time or idling time of rigs ranged between 19 and 23 per cent over 2010-14.
"The bulk of idling time costing Rs 6,418 crore (Rs 64.18 billion) was because of factors which could have been controlled by the company," CAG said in a report tabled in Parliament on Wednesday.
The auditor also raised doubts over the company's safety procedures for rigs and said it had to spend Rs 1,577.27 crore (Rs 15.77 billion) after a rig snapped from its original location.
ONGC also did not adhere to the repair schedule for dry dock management and major lay-up repairs of jack-up rigs. Failure on the part of the company led to a situation wherein rigs were being operated with outdated and obsolete equipment, CAG said.
The company also failed to decide a policy on acquisition of new offshore rigs for over a decade -- from 2002 to 2015. During this time, four out of six offshore rigs outlived their economic usable life of thirty years.
CAG asked ONGC to ensure that the plans are complete and consistent with each other and are complied with.
The auditor said drilling activities are key to hydrocarbon production and reserve accretion and constitute the single most significant operation of ONGC, both financially and operationally.