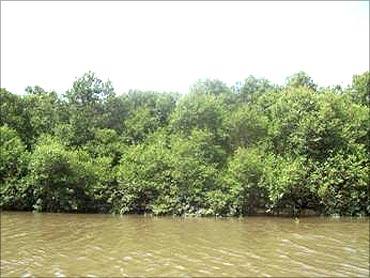 The Comptroller of Auditor General (CAG) on Friday came down heavily on the environment ministry for lapses in implementation of its green schemes whether it was for afforestation, biodiversity, pollution control or creating awareness.
Noting that there were not only loopholes in the money allotment process but also poor implementation, the CAG recommended 37 specific corrective measures in its report tabled in Parliament.
"Protection and conservation of the environment is becoming important, especially in light of observed climate change...," Rekha Gupta, Deputy CAG, said on the need for preparing the report, the first audit report on the Ministry presenting a "holistic" view of its working.
The CAG took serious note of the fact that there was a huge pendency of the utilisation certificates (totalling 7,196), amounting to a staggering Rs 596.79 crore (Rs 5.96 billion) outstanding till March this year indicating lack of monitoring and follow-up system in the ministry.
In the last seven years till 2009, the National Afforestation and Eco-Development Board (NAEB) had released Rs 47.3 crore (Rs 473 million) to the agencies for implementing 647 afforestation schemes.
But only 3.57 per cent and 23 per cent of the total projects sanctioned to NGOs and state forest departments and agencies could be completed, it noted and did not rule out the "possibility of fraud as many agencies did not come back to NAEB for release of further instalments."
Moreover, more than 93 per cent of the projects did not achieve their targeted objectives, thereby seriously impacting the efforts to increase tree cover in the country, it said.
The CAG also pulled up the ministry's National Biodiversity Authority (NBA) for failure to notify important regulations governing access to bio-diversity, transfer of results of research and intellectual property rights even six years after its formation.
Moreover, the NBA which was set up for regulation, conservation and sustainable use of bio-resources in the country also did not take initiatives to identify endangered species and recommend guidelines for their conservation, it said.
For instance, "list of endangered species was prepared for only seven out of 28 states," CAG said, adding that it had no information on grant of Intellectual Property Rights outside India.
Poor implementation of ecocity programme initiated by the Central Pollution Control Board (CPCB) in six cities was another area where the Ministry received flak from the country's top audit body which found that Rs 1.88 crore (Rs 188 million) was lying unspent with state pollution control boards for over seven years.
On environmental education, the CAG said the National Museum of Natural History failed to live up to achieve former Prime Minister Indira Gandhi's dream to promote environmental education all over the country and did not develop any museum- based projects.
Similarly, the CAG picked holes in a project undertaken to control pollution caused by leather tanneries in West Bengal where the Ministry sanctioned interest-free loan of Rs 67.72 crore (Rs 677.2 million) to the state government.
It said that even after 12 years, the project has not been completed thus failing to ensure safe disposal of toxic industrial effluents in the river and water bodies.