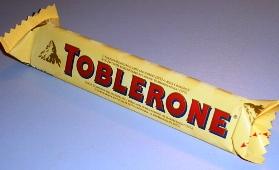 Cadbury India, a part of Kraft Foods, on Wednesday announced the launch of its popular chocolate brand 'Toblerone' in the country, as it looks to enhance its chocolate portfolio.

The chocolate brand, which is sold in over 122 countries, would be available in the country through modern retail outlets in five pack sizes.

"This launch is in line with our business objective of growing the premium gifting chocolate market and we are confident that Toblerone will significantly help us drive future growth," Cadbury India Director-Snacking &
Strategy Chandramouli Venkatesan said.
The company would retail Toblerone at various price points ranging between Rs 65 for a pack of 50 gm to Rs 430 for 400 gm pack.
Toblerone is manufactured only at Bern Brunnen in Switzerland and exported to counties all across the world.
Cadbury India is looking to position the brand as one of the most premium gifting brands in the country.
"Being the pioneers of chocolate gifting in India, we believe that Toblerone with its unique shape, distinctive taste, Swiss heritage and premium quality is the perfect choice to make a mark in gifting," Venkatesan said.