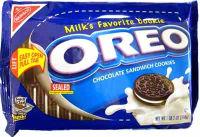 Confectionery maker Cadbury India announced on Thursday its entry into the country's estimated Rs. 12,000 crore (Rs. 120 billion) biscuit market through the launch of "Oreo" brand from the global portfolio of its parent Kraft Foods.
"The introduction of Oreo marks the entry into a new category in India, with the aim to make the world's favourite biscuit, Oreo, one of India's favourite biscuits," said Cadbury India in a statement. Oreo is around 100 years old brand and currently generates a revenue of $1 billion globally. In India, the company will be launching the biscuit in dark chocolate flavour.
"Introducing Oreo marks the beginning of our journey in this growing category and we are readying ourselves to make Oreo a preferred choice with Indian consumers," said Kraft Foods President South Asia and Indo-China and Cadbury India Managing Director Anand Kripalu.
Quoting an AC Nielsen study, the company said the Indian biscuit market grew at 17 per cent in 2010, with creams and biscuits leading overall growth. Parle, Britannia and Priya Gold are other major players in segment.
"The Indian biscuits market continues to show remarkable growth, a testament to rapidly developing consumer tastes that provides us the perfect
opportunity to enter this category," said Kripalu.
The company said it plans to sell the product across the country by April-end and will be locally manufactured here for the Indian market.
Consumers will find Oreo on the shelves of "hundreds of thousands of retail outlets across urban and semi-urban markets" at a price points of Rs. 5, Rs. 10 and Rs. 20, it added.
The company also said the launch of the biscuit is part of its long-term strategy in India to gradually expand the business' operation from a confectionery company to a more broader foods company.
After Kraft Foods acquired Cadbury globally last year for $19.6 billion, it has been looking to expand product offerings in India. Oreo is the second product after orange drink Tang that Cadbury is launching in India from Kraft Foods' portfolio.
"Cadbury India's sales approach, robust sales infrastructure and extensive consumer insights enables the company to introduce new Kraft Foods products as it enters new categories and transforms its local business," it said.
Cadbury mainly sells chocolate brands like Cadbury Dairy Milk, 5-Star, Perk and Bournvita in India.