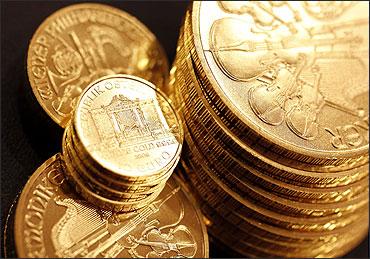 Bullion and jewellery traders in several parts of the country, including Delhi and Kolkata, on Thursday continued their strike for the 30th day, demanding roll back of 1 per cent excise duty on non-silver jewellery proposed in the Union Budget.
Most of the bullion markets and jewellery showrooms remained closed in major cities, Vice-President of the All India Sarafa Association, Surinder Kumar Jain said.
"Jewellers who deal in silver only, are also supporting the ongoing strike by keeping their shops shut", Jain told PTI.
Bullion markets in Chennai, however, remained open for regular trading.
Meanwhile, the government has constituted a panel under former Chief Economic Advisor Ashok Lahri to look into the demand of jewellers.
The panel, which has been asked to submit its report in 60 days, will look into issues related to compliance procedure for the excise duty, including records to be maintained, forms to be filled, operating procedures and other relevant issues.
Finance Minister Arun Jaitley had proposed 1 per cent excise duty on jewellery without input credit or 12.5 per cent with input tax credit on jewellery excluding silver other than studded with diamonds and some other precious stones.