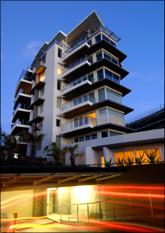 Major realty firms, including Emaar MGF and Sahara, on Tuesday approached market regulator Sebi for public offerings to raise collectively an over Rs 11,000 crore (Rs 110 billion), reflecting that sector has emerged from the worst of the global financial crisis.
Emaar MGF, which was forced to dump its issue last year in the face of economic downturn and stock market crash, on Tuesday filed draft prospectus before the Sebi to raise up to Rs 3,850 crore (Rs 38.50 billion).
Likewise, Sahara Prime City has also filed its Draft Red Herring Prospectus (DRHP) for a Rs 3,450 crore (Rs 34.50 billion) public issue, while Delhi-based Ambience Ltd has undertaken similar step to raise up to Rs 1,293 crore (Rs 12.93 billion).
Mumbai-based realty firm, Lodha Developers has also filed its prospectus for an IPO to raise Rs 2,500 crore (Rs 25 billion).
The realtors' move to tap the capital market comes in the wake of improving sentiments, that has seen the Sensex cross the 16,800-mark this month from just 8000 in March this year.
Industry experts said it is the right time to tap the capital markets to raise funds as housing demands have started to revive in the recent past.
"For the right product, right companies and right valuation there are takers. Developers want to utilise the funds for completing ongoing projects and expansions as demand has started to come," Jones Lang LaSalle Meghraj country head Anuj Puri told PTI.
"Four companies have already filed DRHP and we are going to see at least dozen more public offers in next 4-5 months," Puri said.
Geojit BNP Paribas Financial Services research head Alex Mathew said: "Real estate companies are rushing to enter the capital markets as they need to fund their working capital requirements and this is the right time to enter the market."
Liquidity is very good with FIIs and domestic institutional buyers being in strong buying mode amid positive market momentum, he added.
After taking a battering last year due to the economic downturn, the real estate market has also started looking up since the beginning of this fiscal. The demand in residential segment, particularly affordable housing, have improved.
"The worst is over but we can't sit relaxed. The sector is out of ventilator but still in ward. The trend is improving but nobody can forecast. Possibly 2010 would be better," Global realty consultant CBRE chairman and managing director, South Asia, Anshuman Magazine said.
All the four companies plans to utilise the funds raised through IPO for completing their ongoing projects and reduce debts.