Warren Buffett, chairman and chief executive officer of Berkshire Hathway, has received a total compensation of $519,490 (Rs 2.36 crore) for 2009, including a salary of $100,000 that has remained unchanged for more than 25 years.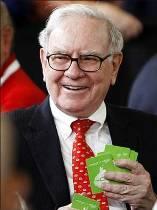 Buffett, was awarded a compensation of $175,000 last year, including a salary of $100,000, according to Berkshire's filing with the US Securities and Exchange Commission.
Besides, the investment company has provided $344,490 for personal and home security services for the world's third wealthiest person, who did not receive any bonus in 2009.
Buffett continues to hold a bulk stake in Berkshire. He owns 350,000 class-A shares and 75,013,134 class-B shares, representing 24.3 per cent stake in Berkshire.
Among other employees, the company's Vice Chairman Charles T Munger was awarded a compensation of $100,000 last year while Senior Vice President and Chief Financial Officer Marc D Hamburg was the best paid employee, receiving a total compensation of $874,750 in 2009.
Berkshire has a compensation committee since 2004 to determine salaries of employees but Buffett and Munger had expressed their desire that their compensation remained unchanged, the filing said.