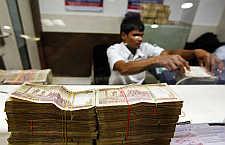 Balance the corporate expectations while at the same time being populist, says Milan Parekh

When the Finance Minister P Chidambaram would be presenting the Union Budget 2013-14, there lay a plethora of challenges for him. India's GDP growth rate for 2012-13 is pegged to be the lowest in a decade at 5-5.5 per cent.

The Current Account Deficit would be significantly higher at 5.3 per cent of GDP as compared to 4.2 per cent last year. Moreover- this deficit is being financed by the volatile FII inflows rather than through more stable FDI's.

10 states including the four important states of Rajasthan, Madhya Pradesh, NCT Delhi & Karnataka; go for elections in the current year. To make matters worse - India's inflation is still much above the comfort level. Industrial Capex has stagnated & economy is going through stagflation.

Being the last budget before the elections - he will have to balance the corporate expectations while at the same time being populist.

While the disinvestment programme is on track & the recent increase in prices of diesel provides some relief to the fiscal deficit number, it is still expected to be above 5.3 per cent which is higher than the targeted 5.1 per cent fixed in the last year's budget.

Don't forget the one time spectrum fee from telecom companies & re-farming of spectrum in the 900 MHz band will help curtail the fiscal deficit this year.

Markets will be closely watching how the government plans to bring down the fiscal deficit number to 4.8 per cent in the next fiscal. The move to increase diesel prices every month by 50 paise has been taken positively by the markets & the lower Fertilizer prices (DAP & MoP) will likely reduce the fertilizer subsidy by 15 per cent (about Rs 9,000 crores) for the next fiscal.

However what is important to note is that since it's the budget before the election year - the government expenditure on welfare programmes like NREGA & loan waivers is likely to continue - which will likely negate the impact of lower oil & fertilizer subsidy bill.

All in all - the union Budget 2013-14 will likely be a populist budget with some impetus given to economic growth and reforms.
Milan Parekh is CMD of Action Financial Services