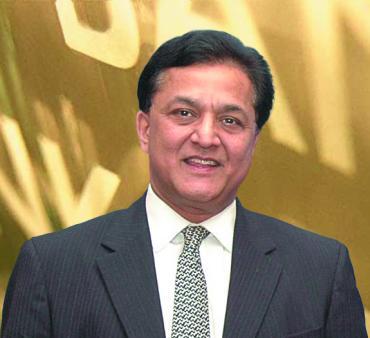 The Budget should serve as a trigger to kick-start the investment cycle in the economy, says Rana Kapoor managing director and chief executive office of Yes Bank.
Like any other year, expectations are running high from the upcoming annual Budget for the financial year 2013-14 to be announced on the last day of this month.

Undoubtedly, the Finance Minister has a challenging task at hand, as he delivers the last full budget of his government's term, at a time when macroeconomic economic conditions have successively deteriorated in the year gone by.

Growth in the economy is expected to have slowed to decade low in FY13, accompanied by persistent and elevated level of inflation, and deterioration in external finances.
To me, the Union Budget this year should possess multiple agenda. One, on the growth front, it should serve as a trigger to kick-start the investment cycle in the economy.
While this has indeed been the government's focus in the last few months as it announced a flurry of economic reforms, the Budget allows the government to move a step ahead.

It offers an opportunity to the government to signal a stable tax environment especially with respect to foreign investment. This would help to alleviate investor fears and thereby enable the economy to benefit from the global liquidity rush.
Second, the government needs to send a strong message for facilitation of investment intentions by expressing readiness to implement certain key pending reforms such as the Land Acquisition Bill and Mines & Minerals Bill and in the financial sector, Pension & Insurance Bills among others.

It must also allow the newly appointed Cabinet Committee on Investments to take on a greater role to expedite the pending regulatory clearances.
Third, the pace of domestic savings has shrunk from a high of 36.8% in FY08 to 30.8% in FY12 and is likely to decline even further. This has been led by a decline in savings of household sector, financial savings in particular.

As such, the budget should aim to induce financial savings, by reducing the lock-in period of bank deposit eligible for tax rebate (from 5 to 3 years), increasing threshold of mandatory TDS on interest income, broadening the Rajiv Gandhi Equity Saving Scheme among others.

This will help not only to reduce the savings investment gap, but also benefit the banking sector to generate more medium term deposits and reduce its asset-liability mismatches.
Last and perhaps the most critical, the government needs to reinforce its commitment towards fiscal consolidation, by announcing a lower yet a credible fiscal deficit target for FY14. To be able to prune its fiscal deficit target, the Finance Minister can either increase revenues or reduce expenditure.

Clearly, while options to increase revenues remain limited in a slowing economy, the focus will, and should be on expenditure management.

Pruning of populist subsidies and reorientation of spending towards productive capital expenditure will provide the much needed fillip to crowd-in private investments.

The budget should make some big ticket announcements such as outlining the GST and DTC framework, and a time bound implementation of these.
The Union Budget FY14 is definitely an opportunity that could change gears for the Indian economy and bring India back on its path of achieving its potential growth.