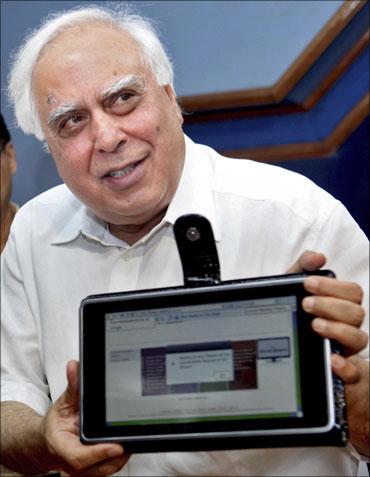 The government is in negotiations with electronic chip makers for setting up a high-tech facility in India this year, Telecom and IT Minister Kapil Sibal said.
Besides, the government is also looking at attracting investments of around 25,000 crore in electronic manufacturing clusters.
"We have to set up a fab (electronic chip fabrication) unit here in this year. Negotiations are on. We will have proposal very soon in our office. We will take it for Cabinet approval for that fab," Sibal told reporters while unveiling one year agenda of Department of Electronics and IT (DEITY).
The project to set up two semiconductor plants in the country was approved by the Cabinet. It envisages investment of around Rs 25,000 crore. The exact level of government support for these plants has to be decided through negotiation with chip makers.
Setting up of these fabs are expected to bootstrap innovation and R&D, especially in the area of electronics which will help in generating employment of the order of about three crore (direct and indirect) by 2020.
The government is also looking to attract investment of Rs 25,000 crore in the electronics sector from around 100 units to be set-up in 10 manufacturing clusters this year.
"We expect an investment of Rs 25,000 crore in electronics this year, possibly from 100 individual units," IT Secretary J Satyanarayana said.
The semiconductor or electronic chips form the basis of all electronics products such as mobile phones, computers as well as equipment used in telecom networks, defence and so on.