When Uttarakhand Chief Secretary Alok Kumar Jain travels to the remote Nogaon area of Uttarakhand this week, he will flag off a refrigerated apple van, a vital link of the cold chain that has been developed for the first time in the hill state.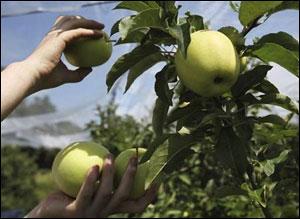 Jain will also study an inclusive business model of small and marginal farmers in the apple value addition business chain.
Initiated by Stichting Het Groene Woutd (SHGW), a Dutch family foundation and social investor, and NGO Sri Jagdamba Samiti (SJS), this model has helped create employment, income, technical skill and capacity among the apple growers of Uttarakhand.
Mahavir Singh of Nogaon, for example, sold eight metric tons of apples to the Pisaon collection centre in 2011-12 at Rs 48 per kg. Earlier, he would sell to the market through intermediaries at a price of not more than Rs 36 per kg - this also included the cost of packing, commission and transportation, bringing down the net realisation to Rs 30 per kg.
Singh also earned a premium of Rs 6,000 and shares worth Rs 10,000 in FFT Himalayan Fresh Produce, a company that runs the controlled-atmosphere storage facility for storing apples in Nogaon and the collection centres. Singh nearly doubled his income to Rs 4 lakh, from Rs 2.4 lakh in the previous year (2010-11). He was also paid without any delay. Singh is not alone. A total of 4,000 farmers are now selling their apple crops to these collection centres of the farmers' trusts, SHGW and SJS.
In the 2011-12 apple season, 880 participating apple farmers were paid between Rs 40 and Rs 55 per kg. A total of 430 metric tons of apples were procured and sold to FFT Himalayan at Rs 55-65 per kg. The latter sold the apples in the markets of Varanasi, Delhi, Dehradun and Jaipur at Rs 75-85 per kg. FFT Himalayan earned a net profit of Rs 700,000, the collection centres a net profit of Rs 500,000. The inclusive business model has been developed by a tripartite partnership between SJS, farmers' trusts and SHGW.