Amid rising concerns, particularly from the international medical fraternity, against irrational use of antibiotics, the government is now planning to introduce a new provision, Schedule H1 under the Drugs and Cosmetics Act, to regulate their illegal sale.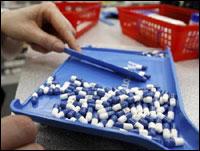 Antibiotics, prescribed to treat various ailments such as cough and cold, tuberculosis and malaria, could generate resistance among users if misused or used irrationally. As a result, the medicine could lose its efficacy leading to a dearth of treatment. According to industry estimates, antibiotics are the most sold drugs segment worth Rs 1,000 crore (Rs 10 billion).
To tackle the problem, the ministry of health and family welfare has made a proposal to the country's highest drug regulatory authority, suggesting mandating doctors to make two sets of prescription for antibiotics, one of which should be maintained by chemists. The idea is to restrict the sale of antibiotics at the end of chemist to check self-medication.
Besides, the proposal, under consideration of Drugs Technical Advisory Board (DTAB), suggests restricting sale of third and fourth generation antibiotics, newer in nature, at government and tertiary care hospitals only. Such medicines may also have separate colour coding for distinguishing them from other antibiotics.
"Antimicrobial resistance because of indiscriminate use of antibiotics is increasing in the country and the sale of antibiotics is therefore required to be separately regulated. The government has suggested that certain other categories like anti-TB drugs and habit forming drugs, which are commonly misused, should also be included in this new Schedule," a government official, in the know of the development, told Business Standard.
According to the official, the proposal suggests the container of the medicine be labelled with a warning clause for the purpose of information of the consumer as well as chemist.
However, the idea has not gone down well with all stakeholders. While pharmaceutical companies fear a drop in sales, chemists and retailers say it is not a "practically feasible option" because of lack of infrastructure.
"There are over 700,000 chemists all across the country and it is practically not feasible to maintain and audit such records," says Suresh Gupta, general secretary, All India Organisation of Chemists and Druggists. "Besides, the cost of third and fourth generation antibiotics is so high that it cannot be misused so easily."
Many are also concerned that such a move may impact the availability and affordability of antibiotics, mainly in rural areas where people mostly buy medicines from chemists. While the law does not allow medicines under Schedule H of the Act such as antibiotics to be sold without prescription, the reality is that most patients, even in cities, buy medicines directly from chemists. Often people also do so because the fees of general practitioners are too high. "Restricting the sale through doctors' prescription will impact poor patients more than anyone else," a health expert said.
However, some also believe the problem of antibiotic resistance is grave and needs to be addressed immediately or else the world will lose valuable medicines.
"The issue needs to be addressed with care. It will not make a difference if every step is not accompanied with an increase in mechanism for regulating and monitoring the situation. There should be proper regulation in the form of legislation, punitive punishment as well as awareness," says Amit Sengupta, co-convenor of Jan Swasthya Abhiyan, a public health advocacy movement.