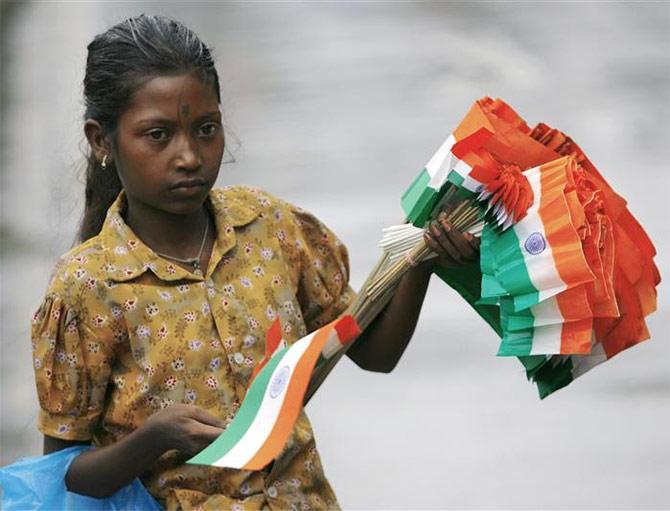 Image: Budget fails to provide 'Aacche din' to poor. Photograph: Reuters
The Opposition on Saturday slammed as "hollow and plain" BJP's first full-year union budget, saying it lacked the vision and alleged that it was "repayment" by the BJP government to the rich and the corporates.
"The budget is only for big corporates and industries. It is not a pro-poor budget. This budget is a repayment by the BJP government to the rich and corporates who had supported them during Lok Sabha polls. The budget is all about promises," Leader of Congress in Lok Sabha Mallikarjun Kharge said.
While Jyotiraditya Scindia termed the budget as "plain and hollow", Congress leader Jairam Ramesh described the budget as "dhanwapsi" programme. "You (BJP) had taken in elections. You are paying back," Ramesh alleged.
Criticising the budget for failing to provide "acche din" to poor, BSP Chief Mayawati said, "budget is aimed at helping corporates. It has been made keeping in mind only the rich and big capitalists. It is not in the interests of common man."
Budget 2015: Complete Coverage
Giving 2 out of 10 for the budget, BJD leader in Lok Sabha B Mahtab said it was very disappointing as it did not do much for the formers but significantly, his views were contradicted by his party colleague Jay Panda, who termed the budget as "big bang" which will "encourage the economy and boost the prospects of industry and manufacturing".
NCP Chief Sharad Pawar said the budget has not met the expectations of people as it does not have initiatives in economy that could boost infrastructure, agriculture and investments.
The provisions regarding service charge will result in more inflation, the former Union Agriculture minister said, adding yesterday Prime Minister Narendra Modi had made fun of the MNREGA and today his government has raised the allocation for the scheme.
'Kabhi khushi, kabhi ghum' is how Sharad Pawar's daughter and party MP in Lok Sabha Supriya Sule described the Budget.

She said BJP could have done much more for farmers given the huge mandate it had. TMC leaders Sugata Roy and Darek O'brien said the budget was "anti-people, anti-poor and anti-middle class".
"The budget has made a mockery of West Bengal by throwing a chillar (loose change) of Rs 840 crores when the State has spent Rs one Lakh crore so far as its interest burden," Roy said.
O'brien alleged that "the biggest scam in the budget was the claim that the government has transferred 62 per cent from the Central fund to the states. Last year, 61.88 per cent was given to the states.
"Budget was all good talk and no action as Finance Minister Arun Jaitley was capable of selling refrigerator to an Eskimo." JD(U) Chief Sharad Yadav said the budget lacked any initiative on three key areas -- employment, agriculture and black money -- on which BJP came on power.
JD(U) leader KC Tyagi said Budget is corporate-friendly, urban-friendly and rich-friendly. It has nothing for the poor, agricultural labourers, farmers, the rural India. It is total neglect of rural India.
Haryana Congress leader Deepender Hooda said it was apparent that BJP was "pro-corporate".
"We were expecting some incentives for them but never expecting a tax reduction for corporates while no such tax reduction for the common man. Agriculture sector in particularly has been neglected. Farmers were completely neglected."