Divestment in PFC, REC, NHPC, Nalco, Hindustan Copper and NMDC could be considered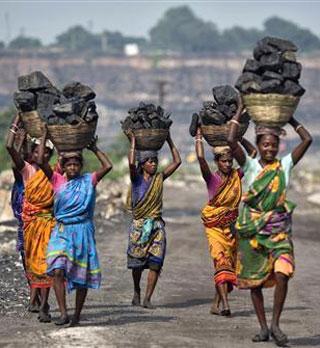 Following the recent slide in the share prices of public sector behemoths Coal India Ltd (CIL) and Oil and Natural Gas Corporation (ONGC), the finance ministry is learnt to be reconsidering its plans of selling stake in these companies.
At current prices, a planned dilution of 10 per cent stake in CIL and five per cent in ONGC will fetch the government Rs 37,500 crore (Rs 375 billion).
While a call to scrap the stake sales will lead to disinvestment proceeds falling short of the budgeted target of Rs 43,425 crore (Rs 434.25 billion), officials said a part of the shortfall would be made good through disinvestment in six-seven companies, some of which weren't in the original road map for FY15. This, they added, could help fetch the government about Rs 20,000 crore (Rs 200 billion).
Speaking at the Vibrant Gujarat summit on Monday, Finance Minister Arun Jaitley had said divestment would pick up pace in the last three months of the financial year. Government stake would be sold in more than one company, he had added.
"We are considering a plan for the rest of the year, which might not feature either CIL or ONGC, if prices stay around the current levels," a senior finance ministry official said, on condition of anonymity. The new plan could include sale of stake in Power Finance Corporation (PFC), Rural Electrification Corporation (REC) and NHPC (all part of this year's plan), besides Nalco, Hindustan Copper and NMDC.
Other companies in which the Centre has more than 75 per cent stake might also be considered.
The officials, however, said the ministry would go ahead with its plan of disinvestment in CIL and ONGC if the stocks of these companies rose "substantially" by early March.
Sources told Business Standard falling short of the Budget target of proceeds from stake sales, even at a time when the government was resorting to huge spending cuts to meet its fiscal deficit target, was more acceptable than selling "family jewels" at low prices.
A final decision on scrapping the two mega stake sales will have to be taken by Jaitley. Given the government's tough fiscal deficit target and an expected shortfall of Rs 1.05 lakh crore in tax revenue, it seems unlikely that the finance minister will be willing to forego the stake sale in CIL and ONGC.
On January 13, the ONGC stock closed at Rs 339.65 on BSE, down 28 per cent from its 52-week high of Rs 472, while CIL shares closed at Rs 361.45 apiece, down 15 per cent from their 52-week high of Rs 423.85. Both stocks had hit their highs in early June, after which investors began to pull out of these, hoping to buy the stocks cheap when the government issued fresh shares.
Stake sales in the two companies in June would have fetched the Centre about Rs 42,000 crore (Rs 420 billion).
In the meantime, the benchmark Sensex continued to rise, hitting a lifetime high in November.
For ONGC, a new subsidy-sharing formula is expected to be put in place soon. "Even after the new formula, the disinvestment department will watch the market conditions and share prices closely. It might not rush into a decision to sell stake," said the official quoted earlier.
Cabinet approvals for stake sales in NHPC, PFC and REC have already been granted. The disinvestment department hopes to secure approvals for disinvestment in Nalco, NMDC, etc, soon. "This means we will have to move fast on the new companies, in terms of getting approvals and conducting road shows. But we are prepared for that," the official said.
The government had also planned to sell stake worth at least Rs 15,000 crore (Rs 150 billion) in Hindustan Zinc and Balco. It had hoped to raise about Rs 6,500 crore (Rs 65 billion) by selling part of its stake in Axis Bank, ITC, and Larsen & Toubro, through the Specified Undertaking of the Unit Trust of India. Now, both plans seem set to be scrapped, at least for this year.
With the government's fiscal deficit already touching 99 per cent of the full-year target, the finance ministry is effecting deep Budget cuts across ministries and departments. In November, every department was told to carry out a mandatory 10 per cent cut in non-Plan expenditure, excluding interest payment, repayment of debt, capital spending for defence, salaries, pensions and grants to states. As reported by Business Standard earlier, ministries had also asked to cut Plan expenditure by an average of 20 per cent.
To serll or not to sell?
Finance ministry officials say they prefer not meeting the divestment target than selling 'family jewels' at lower prices
It is not known whether Finance Minister Arun Jaitley shares these views
Given the divestment target is tough to meet, the Centre may want to sell at least one of the two companies, even if prices don't pick up
Officials say watching market; if ONGC, CIL shares rise by March, stake sale possible
If CIL, ONGC not sold, govt will have to forego Rs 37,500 cr of potential revenue at current prices
Taking stock
ONGC down 28% from June high on subsidy-sharing concerns, falling crude prices, and investors selling stock to benefit from disinvestment
CIL down 15% from June high on concerns of union trouble and investors driving down stock to benefit from stake sale
Eyeing other assets
Alternative plan to raise about Rs 20,000 cr through NMDC, NHPC, PFC, REC, Nalco, and other companies
Ministry seeking Cabinet approval divestment in Nalco, DCI, NMDC, etc