Economists want the government to focus on jobs, farms, and fiscal consolidation. They also favour re-imposition of the long-term capital gains tax on listed securities and mutual funds.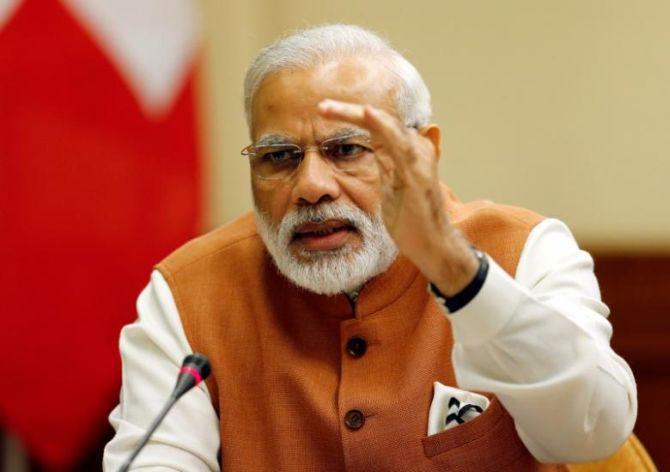 Fixing agricultural issues, generation of jobs, and fiscal consolidation dominated the deliberations at a pre-Budget meeting on Wednesday between Prime Minister Narendra Modi, his Cabinet colleagues, and economists and sectoral experts.
In the day-long meeting, attended also by Finance Minister Arun Jaitley, economists suggested that the fiscal consolidation road map be adhered to, even as corporation tax be reduced from the current rate of 30 per cent.
Economists also favoured the reimposition of the long-term capital gains (LTCG) tax on listed securities and mutual funds, and the extension of the holding period of short-term capital gains (STCG) tax to three years from a year.
They also wanted the Budget to have a fresh strategy on disinvestment, sources said.
In his intervention, Modi favoured simultaneous Lok Sabha and Assembly elections.
The meeting was held at the NITI Aayog. The Budget for 2018-19 would be presented on February 1.
In agriculture, sources said, a clear suggestion was to create jobs in rural areas, develop clusters at the district level for specific agriculture products, change the crop geometry, and improve linkage of farmers with markets.
"We made a suggestion that there is no reason why there should be a distortion in the choice between long-term capital gains on debt-based assets and equity-based assets," said M Govinda Rao, economist and former member of the Economic Advisory Council to Prime Minister, who was also at the meeting.
On suggestions regarding agriculture, he said, "We need to have more investment in agriculture, processing, marketing, logistics, and the like."
He also said a suggestion was made to rationalise fertiliser subsides to stay on the path of fiscal consolidation.
"The government should aim to reduce subsidies and transfers, and aim to increase capital expenditure.
"For which, we need significant increase in items such as disinvestment," Rao said.
Employment and the need for high frequency data on employment was also a talking point in the meeting, where sectoral experts were divided into six groups, which made presentations to the PM and his Cabinet colleagues, including Agriculture Minister Radha Mohan Singh, Power Minister R K Singh, and Commerce Minister Suresh Prabhu among others.
The groups dealt with issues such as macro economy, employment, manufacturing and trade, agriculture, health and education, and infrastructure.
What economists want

* Big focus on agriculture, with aim to boost incomes and not just productivity, health care, and education
* All attention should be on creating jobs, with emphasis on overhauling apprenticeship programme
* Reintroduce long-term capital gains tax and cut corporation tax
* Strict adherence to fiscal consolidation road map
Photograph: Denis Balibouse/Reuters